Kids in Lodi are Thinking Kind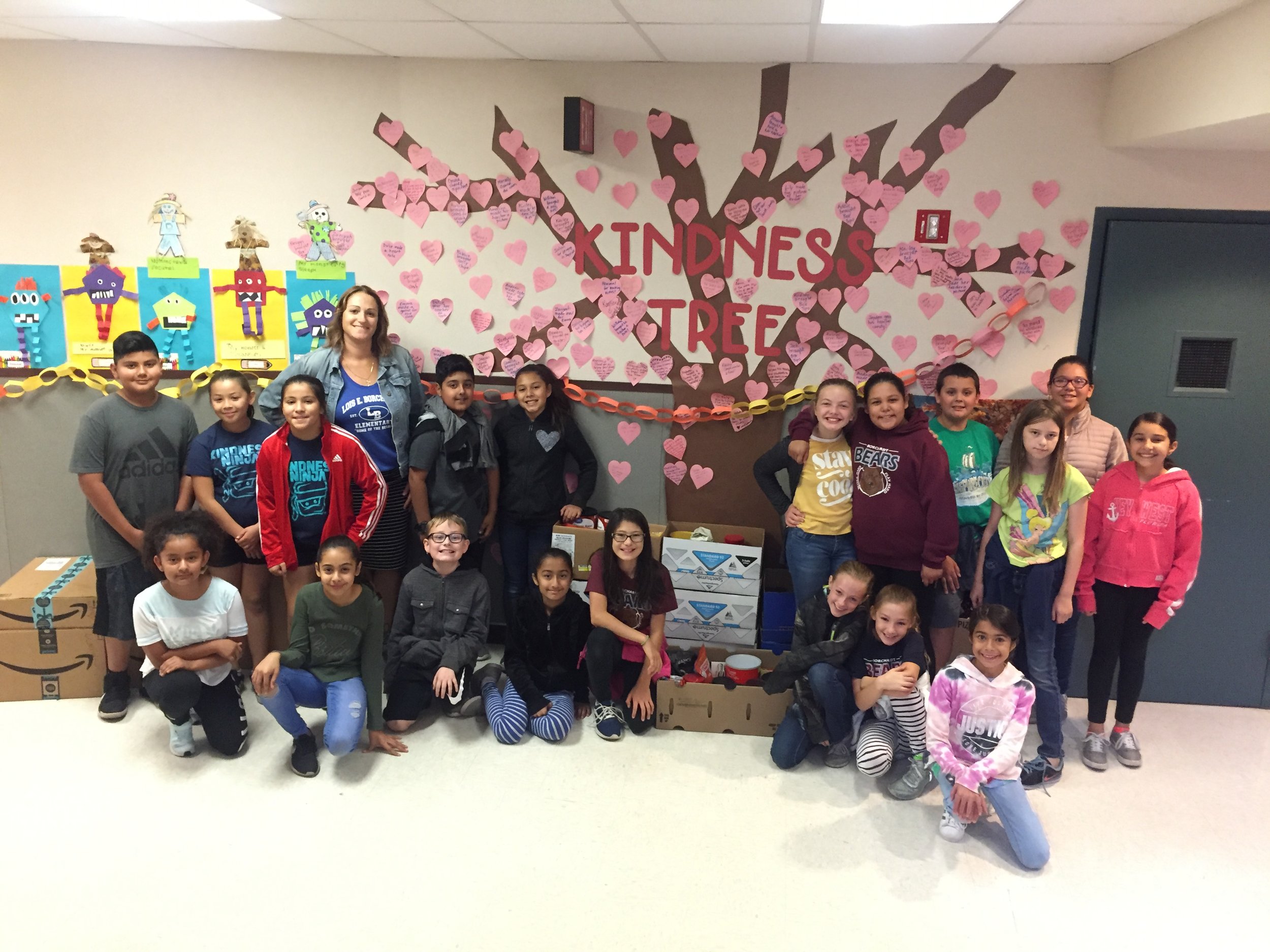 In February, an Air Force member from Travis Air Force Base came to Borchardt school to collect coffee that would then fly across seas to be shared with soldiers away from their home, in need of a good ol' cup of coffee. All of the coffee was collected by the students at Borchardt as part of the school's Kindness Campaign. These kids are mean, lean kindness creating machines! Three years ago they started doing these huge acts of kindness. The first year they sent shoes to Africa so kids halfway across the globe could go to school. The second year they had a huge project to beautify their school. And this third year they're sending coffee to our men and women serving overseas. They're also on a mission to create thousands of every day acts of kindness. Kindness is front and center at Borchardt school and very deliberately ingrained into the culture. It's honestly super inspiring. The team of leaders at Borchardt have successfully created a culture of kindness that has since been replicated by other schools in the Lodi Unified School District. Borchardt school was looking for a new way to teach kids to be kindness and found the organization Think Kindness. Since bringing this organization in, the administration, teachers, students, and families have found that perfect inspiration to make change happen.

Schools have been on an anti-bullying campaign for years now. We've all heard it- a lot. It seems like we're talking a lot about anti-bullying but continuing to see horrible stories in the news about kids taking bullying too far, especially with social media. When Cassandra Sotelo (Cassie) joined Borchardt as the Vice Principal, she wanted to find a different approach to helping kids get along. The term "anti-bullying" has a negative connotation. It focuses on the bad behavior instead of good behavior, and it's hard to create a school culture that nurtures good behavior when you're so focused on the bad. She went searching online and eventually found the Think Kindness organization. Think Kindness' mission is to spread measurable acts of kindness in schools and communities. When you visit their website, it just feels different; it feels good. It feels like something you want to be part of. Their mission states: "Every person on this planet can think of at least one kind act that made your day a little brighter. It is our mission to inspire these kind acts. To gather thousands of people to perform seemingly simple acts of kindness in solidarity and that will result in a wave of good, that will make a difference in the world." Cassie decided to bring these guys from Think Kindness to the school for an assembly and hasn't looked back. "It's been really fun and I love Brian and Gary [two speakers from Think Kindness]," shared Cassie "They're silly and they're goofy and they're so good at getting the kids motivated with that same message of you've got everything inside of you to be a good person, so choose that. Don't choose the other way, choose that."

With the encouragement of this program, the team at Borchardt has put kindness front and center in the school's culture, and the kids have done a lot of good. They've done their three huge community acts of kindness (sending coffee to soldiers overseas, beautifying their school, and sending shoes to kids in Africa) and they've done literally thousands of every day acts of kindness. The kids have written their acts of kindness on little paper links, that they then turned into paper chains and have strung up all over the school. Every hall is lined with at least one chain of full of acts of kindness. These kids are kind and they have the receipts to prove it! A lot of the links on the kindness chain are sweet and simple. They read things like "Dulce held the door for her friends." "Miley cleaned her room." and (one of my favorite) "Jason gave his brother a high-five." There's also a kindness tree right at the front of the school, and each leaf is a heart with an act of kindness noticed by the teachers. They include praises like "Isabella helped a friend out in class just because!" "Max, thank you for helping your friends clean up, even when it was not your mess." and "Eliza spoke up for a friend being bullied." In today's world where, it seems like we need a measurable outcome for everything, how do you measure kindness? Like this: by writing down every kind act on a little paper chain link, then hanging those links down every single hall of the school.
So why is this all so important? "One of the things Gary and Brian talk about is being world changers," explained Cassie. "'You, first grader, kindergartener, you have the power to change the world by just doing one small act of kindness.' That's their whole mantra, and they take this little tiny thing that seems so simple and they take it as far as you want. And that's the piece that's kind of neat. To talk to a 5 year old or a 6 year old and tell them, 'Now, you've got the power within you to make changes in the world.' And they talk to the kids about, you know, the world is a scary place. There's a lot of really great things but there's a lot of really difficult things going on here too. What could you do to make somebody's day brighter? You don't know where they come from, what they're dealing with at home, maybe they're hungry, maybe whatever. So that piece I really love too. They learn that they've got the power to make the world better and make somebody else's day better. I think we need to keep telling them that and giving them that opportunity to put things into context. That community service piece I think is so huge for our kids. Just being a family and big school community here, I mean, we call ourselves a family here, kids learning and having that experience to see the smile on somebody's face or just holding the door open for someone. Manners you know, saying please and thank you."

It makes me wonder how all this kindness will affect these kids' outlooks the rest of their lives. There's a quote by Roald Dahl (one of my all time favorite authors), that says "Those who don't believe in magic will never find it." They're never looking for it so they never see it. These kids are actively looking for kindness and opportunities to be kind, and they're lucky enough to be surrounded by caring adults who help them understand the importance of being kind. This approach doesn't take kindness for granted; it actively celebrates and teaches being kind in a way that kids can understand. When I spoke with Cassie, she had a lot of praise and gave a lot of credit to the Think Kindness crew, but in truth it was the team at Borchardt who did all the hard work. It was the Administration who deliberately created this kind culture, and the teachers who deliberately put kindness front and center for their students, and the kids who did the thousands of acts of kindness and sent shoes to Africa, cleaned their school, and sent coffee to soldiers overseas. The Think Kindness crew just gave them the idea. Part of the mission of Think Kindness states, "We believe that each act of Kindness, no matter how small, has an unforeseeable ripple effect that makes the world a better place." In this ripple effect, the founders wanted to do something kind and created this service. A Vice Principal in Lodi stumbled upon this site and decided to give this program a shot, which in turn has sent kids in Africa to school who may now be able to better their family's lives, and instilled the importance of kindness in over 8,000 kids. And who knows all the good that can come out of these kids as they continue on their journey of life into adulthood and continue to do great things and put kindness first. All that from sharing an idea to be kind. How's that for an unforeseeable ripple effect of making the world a better place?