Soup, Soap & Salvation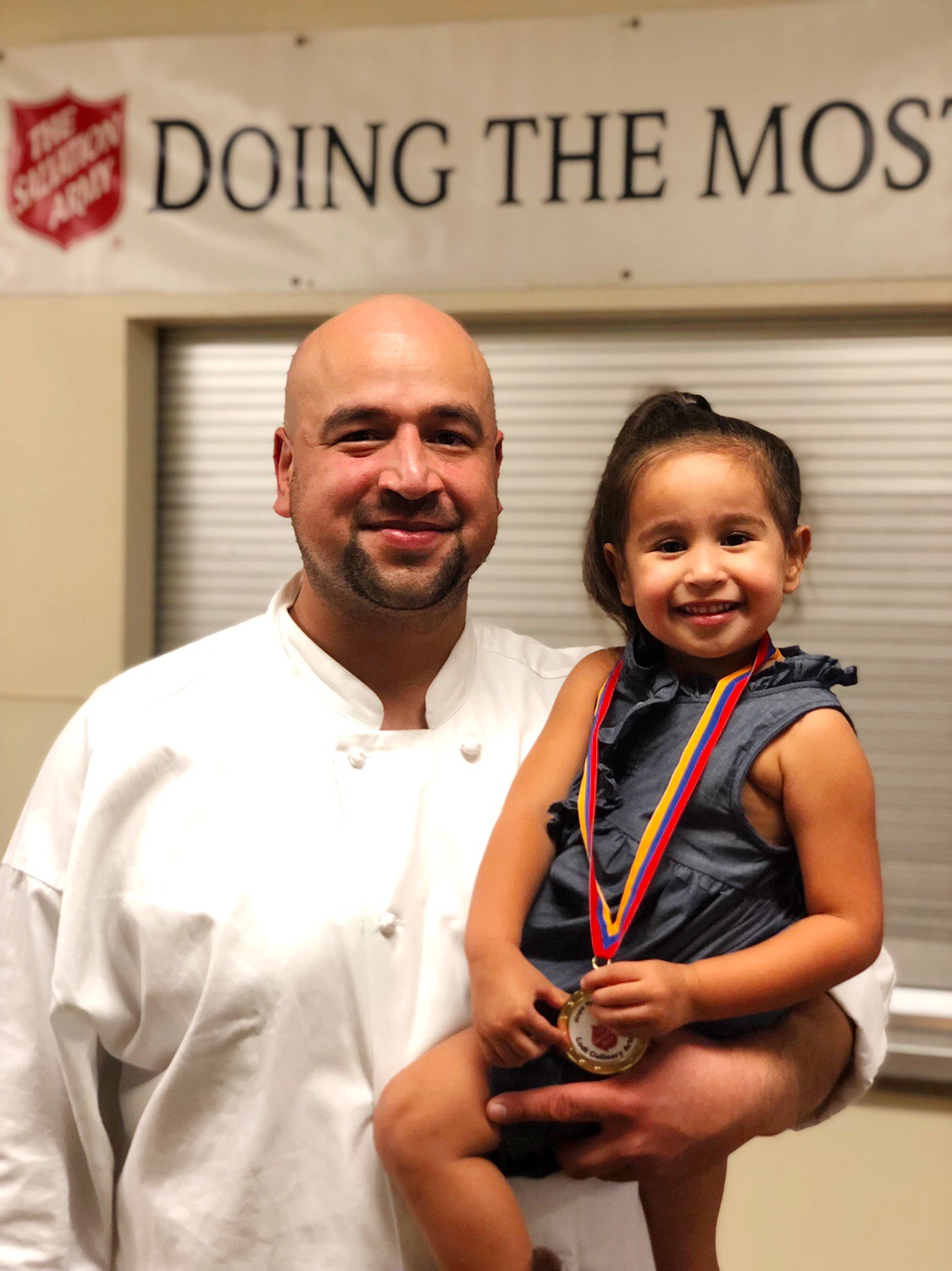 "I don't usually express my gratitude to a lot of people. I find it a little difficult. But I am so extremely grateful to the Salvation Army and especially to Chef Barry for allowing me to be here," said one woman. She is graduating from Lodi Salvation Army's Culinary Academy and accepting her diploma in front of her classmates, Salvation Army volunteers and loved ones. "I suffered through a pretty severe tragedy earlier this year. I found my roommate after he had lost his will and his fight with depression. It left me homeless. The Salvation Army was kind enough to take me under its wing and give me as much support and help as they could. I went through HUD-VASH [a veterans housing program] but I couldn't find anything because I definitely was not making enough due to my VA disability. The director down at the depot asked if I wanted to join the culinary program and I kind of jumped up and down with joy on the inside. Out loud I said, 'That would be fantastic.' … These last four months have been kind of a roller coaster… I just wanted to express my extreme gratitude to the Salvation Army and Chef Barry for everything they've done and everything they've given me over the past four months. Thank you."
Each year, for the past 11 years, two classes have graduated from the Salvation Army's culinary academy. That's 22 groups of students whose lives have been changed for the better. I had the joy of attending the graduation for the most recent group of graduates and I was able to see what an impact this program makes on individuals. Lodi's Salvation Army created this culinary program that has gained national attention when their new industrial kitchen was installed. Board members saw an opportunity with this new resource and seized the chance to bring more good to more people. They hired a chef who taught culinary classes at Delta Community College and, with him on board, they created this specialized culinary program. Then the Lodi Salvation army hired Chef Barry Crall to take the college program and form it into a 16 week program to cover all the requirements for an entry level chef. Chef Barry is also credited for adding the important life skills like working as a team, being prepared, and being professional. Skills that are all just as important to keeping a job as the trade skills themselves. This program is a legit, college level program. The classes are small and designed to give participants trade skills so they can get a good paying job and support themselves. Just as important, the program teaches life skills so those students can keep those jobs and be successful and independent. Each week of this program is focused on a different type of food, from meat to sauces. To support all this hands on work, students are also reading, taking tests and getting their ServSafe certification for food service managers (a certification for food service employees to safely handle and serve food).
"Our students come from all over," shared Patricia Fehling. Patricia has been on the board at the Salvation Army for 13 years. She came on right after they installed the new kitchen and has been a big part of this program since its inception. She and the Salvation Army's Chef, Chef Barry Crall, travel all over to interview potential candidates for this program. "We're famous. The school is only for reformed alcoholics and addicts. So no one comes here from the public. They all have to have gone through a six month long rehabilitation program. That's the way the Salvation Army has set it up. And then the big thing is when they're done they can get a job. When they all graduate they all can get a job, they all can work. We're saving people one at a time. I love the program. Like with some of our students, they don't always go into culinary but that's okay because of the life skills that they've learned here. The groundwork has been laid." Every restaurant in Lodi knows about this program, and most of them hire graduates. From the finer dining establishments like Wine and Roses or Woodbridge Country Club to more casual dining like Habanero Hots and Richmaid, if you've ever eaten at a restaurant in Lodi, a graduate from the Salvation Army's culinary academy at some point has probably prepared your food.
One of the reasons the Salvation Army wanted to pursue the culinary world is because this is one of the few industries where people who have gone to jail can have a second chance at being productive members of society. Some of the Salvation Army's graduates have been to jail, and have done the hard work of cleaning their lives up. One graduate who spoke at the graduation is a parent and has been given another opportunity to be there for his kids. "If I didn't go to jail I don't know where I would be today to be honest with you. I'm so thankful. I have so much to praise God about today...I've come from something so horrible, so bad. Addiction, gang life, lying, cheating, stealing… whatever you want to call it I did it. Christ has given me something so good that I'm not going back... I want to thank the Salvation Army for opening their doors to somebody like me. To get some recovery. To allow God to restore broken relationships. To the people who support Salvation Army and make this culinary class possible, thank you. Thank you for believing in us and giving us a chance to gain some life skills, some career skills." Another graduate spoke and who had also been helped by the Salvation Army. Before this program she had been battling addiction and finally decided enough was enough. She enlisted the help of the Salvation Army to get clean then eventually joined the culinary academy. "Because of him [God] I'm standing here today and I'm proud of myself," she shared as she accepted her diploma. She started to get choked up and fought back tears. "I haven't been able to say that in a super long time. I'm actually proud of myself. I'm super proud of myself. Dad, thank you for not giving up on me. Grandma, thank you. I love you two. I hadn't seen my Dad in twenty years and this is the best year I've had. I'm grateful. Thank you, Chef, you're amazing. Thank you." This program doesn't just give people skills, it makes them proud of themselves, which is so powerful. The program gives them a strong support network, it gives them confidence, and it renews their purpose. That's why they've been so successful in changing people's lives.
By the the end of the graduation, I found myself emotionally invested in every student's success. I've never wanted something for another group of strangers as much as I've wanted continued success for this hardworking group. I felt so lucky to be included in this night where they celebrated one another. On top of that, it is a culinary program so if you're wondering, yes, the dinner was amazing. Another board member, Annette Murdaca, gave a beautiful closing speech. "I've been with the Salvation Army for about 20 years. The one thing I learned from the very first Captain that I met, you know you have on that uniform that you wear and you have the lapels, the "S"s? So I asked him one day what those meant, and I've never forgotten. These are my word of encouragement today to the graduates. Soup, soap and salvation...Soup is about feeding the person...Soup is about feeding the physical part… Soap is the next thing. The army cleans a lot of people up. A lot of people come to our door and they're not only hungry, they need help to clean themselves up and a warm place to sleep and they need someone to talk to. … So soup for your physical part, soap to clean up your heart and your mind and your body, and the last one, salvation. Soup, soap and salvation...Because you're going to help clean somebody, you're going to help feed somebody, but most importantly you're going to help share your story and help that person. You're going to help save that person from the pit that you came out of. Because we've all come out of a pit. Everybody does. I have a fourth S, surrender...You keep those in the back of your mind and the pocket of your heart. It's now your responsibility to share them with all the people you come into contact with… You've been given a special gift to show up here. I know it's been tough. You've all got stories, and those stories are the stories you're going to use with other people to help them. So those are my words. Really simple. Soup, soap, salvation and surrender. Don't forget the four S's."
My most sincere best wishes to the graduating class.