Spotlight on Lodi Businesses Who Give Back: Dean Machado of Woodlake Cleaners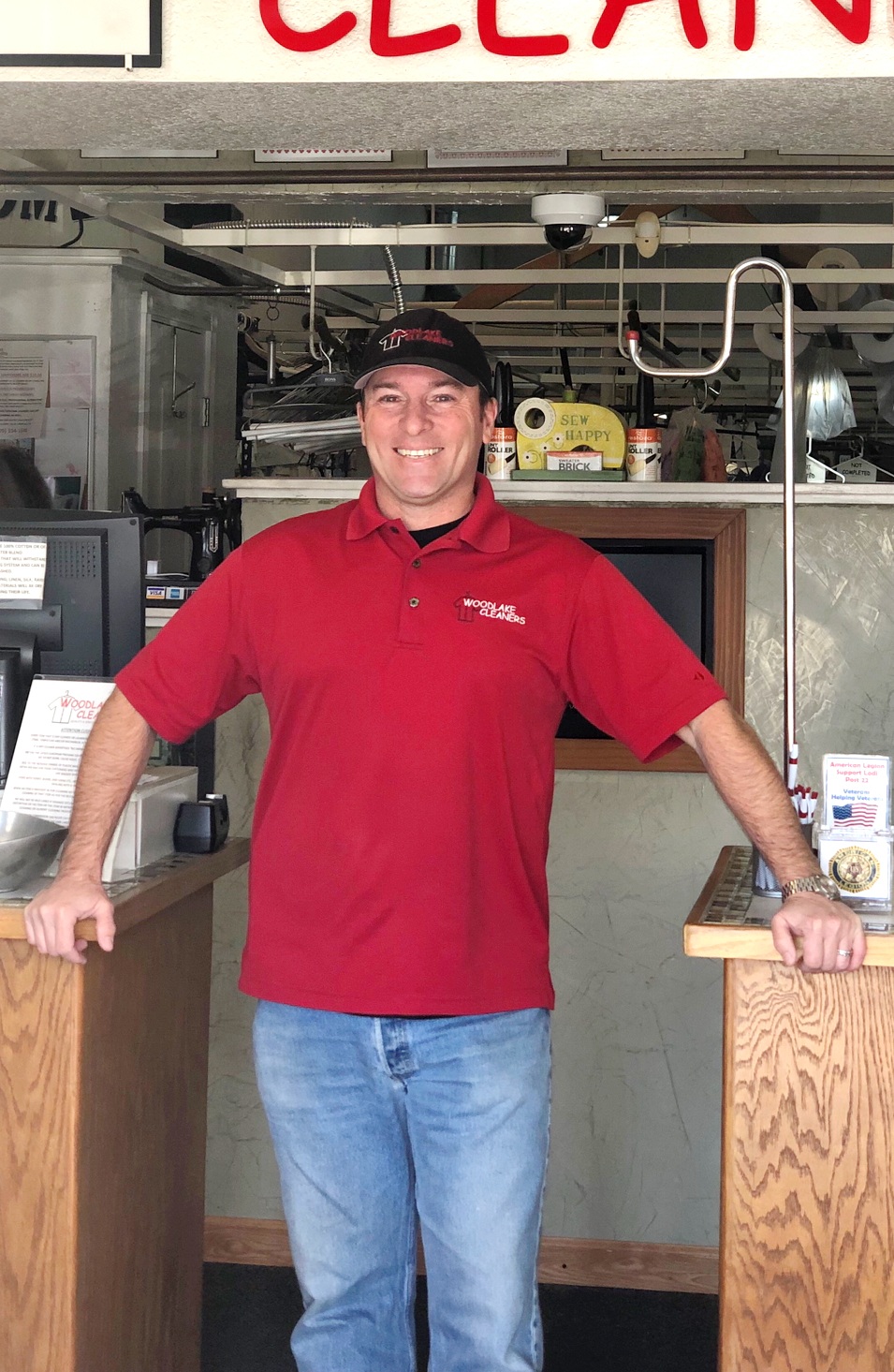 In each Lodi Live print we like to focus on a business who is giving back to the community. In this Spring publication, we're focusing on Dean Machado with Woodlake Cleaners. Dean made it easy for those of us whose hearts were with the people of Paradise to send our support. If you ask Dean, he did it simply because "It's the right thing to do."
"When I was a kid I always wanted to own a business but didn't know what I wanted to own," shares Dean. "I had some monies I'd saved up. I always managed my money well for the most part. I didn't have a lot but I always made it work. I came to a point where I was at a crossroads with jobs and I remember, sitting there at the intersection in Stockton and I was wondering what my next venture in life was going to be. I looked around and I saw all the different signs of all the different businesses and I thought, 'You know, there's somebody at each one of these places who gave it a try. There's a single person behind each one of these signs that gave it a try.'" At that moment he knew he needed to pursue owning his own business. At the time, the girl he was dating just so happened to be the daughter of the owner of Woodlake Cleaners and she told him her dad was looking to sell the business. Dean came in to talk with him, started working around the shop, and even went to dry cleaning school in Baltimore, Maryland. He bought the shop in 2001 and has been living his dream of being his own boss now for nearly 19 years.

Since he's taken over, Dean has used his platform to be involved in the community. The first example he shared was back in 2008 when Mervyn's closed. When they closed Dean made an offer to Mervyn's employees that he would clean their interview suits for free. He did the same when General Mills closed its doors, and has continued to do it for people when he finds out that's what they're in his shop for. He knows first impressions go a long way, and there's no better first impression than looking spiffy in a freshly pressed suit.

When the Camp Fire erupted, the deadliest wildfire in our nation's history, Dean wasted no time. He and his wife donate their clothes to organizations in Lodi, and about a week before the fires his wife had set aside a pile of clothes to donate. Then the fires started. "Sunday," Dean explains, "my wife says, 'Tomorrow I'm going to drive up there to Chico and donate the clothes up there because there's an immediate need up there.'" He asked her to wait to go with him, then he got an idea: "Let's wait to go up and do something with the shop," he said. "I think we can incorporate the community and we can make it a big thing and do a lot of good." Dean was right. He changed the message boards out in front of his shop and posted some something on social media telling people if they wanted to donate to drop items off at his store. Within three hours his delivery van was filled with donations from all over Lodi to go up to the fires.

He made a total of 11 trips with his trailer full of donations from people all over Lodi. From clothes to water to cash to food to gift cards, whatever Lodi wanted to donate he brought. Many people in Lodi wanted to help support the victims of the Camp Fire but the fire was moving so rapidly and things were changing so quickly many people didn't know how to help. Dean acted as a vessel to help people from all over Lodi send donations and let the victims know Lodi was with them. In a prior interview, a reporter told Dean not all heroes wear capes and Dean had a quick response, "I told him, 'You need to rephrase that. Really, everyone else is wearing the superhero capes, I'm just the guy driving the batmobile.'"
Perhaps for Dean and his wife, one of the best things that has come from this wasn't only an opportunity to grow closer to their community and their customers, it was seeing the impact it had on their kids. They have two young boys, one is 5 and the other is 7. When Dean was making all those trips up to Chico, he wasn't seeing his boys until the weekends, but he knows his actions were instilling positive values in his boys. "This really gets me everytime I think about it," shared Dean. " I was making dinner for the boys. They were sitting at the little kitchen bar and I was talking to them because I hadn't seen them all week. I tried to start the conversation with, 'Do you know what I'm doing? Do you know why I'm doing this?' I wanted to give them some education like 'Hey, it's not always about you, sometimes you gotta help others,' and um," Dean started getting a little choked up and cleared his throat, "So I asked the boys, I asked Jett and Gage, 'Do you know why Dad is going up to Chico?' and both the boys at the same time pointed up and said, 'Because God sent you.' I looked at my boys when they said that and I was just like, 'Yep.' It was really a cool thing. So I know what we're doing, how we're able to help, it's passing through to them."
Dean didn't get any tax write offs for all these things he's done to help. The truth is, Dean did this because it's the right thing to do. Over and over he kept saying, "It's just the right thing to do." Dean went on to say, "We're just a small business. I told another person, in reference to the Chico fire, I said, 'If you think about it, if every single person in Lodi (we have 66,000 people or whatever in Lodi) donated just $1, and people from other towns donated just $1, it could make a big impact for those folks who still need help. It's just the right thing to do." Thank you to Dean for using his platform to build community and support those around us. Know when your working with Dean, the money you spent cleaning your clothes is what gave Dean the resources to make those 11 trips to Chico and support the victims of the Camp Fire. We all like to know when we spend money it's going to go to something good, and this is a great example of how far your dollar can go.