A Round of a"paws" for Miner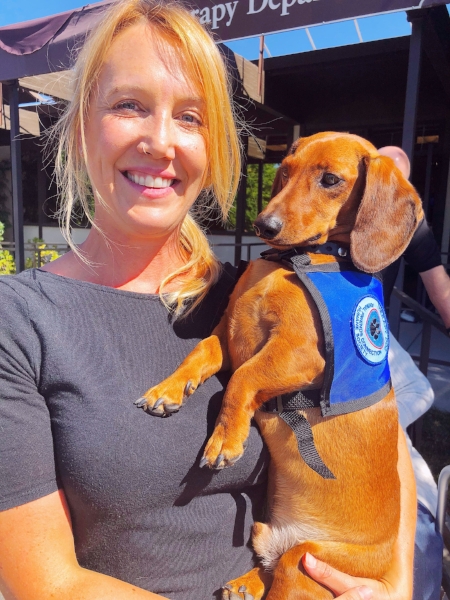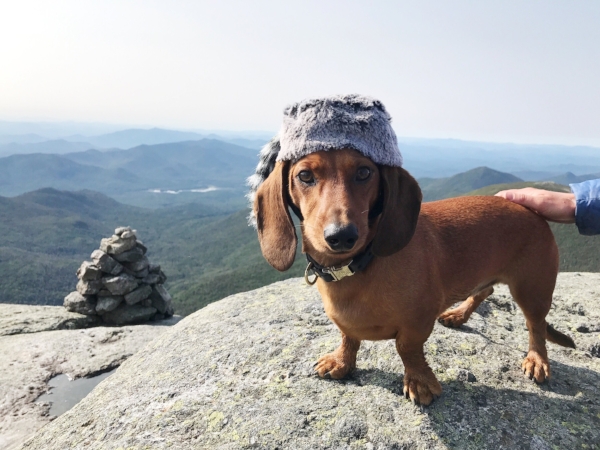 Miner is a good boy. Miner is also a therapy dog. His dog mama is Becky, a physical therapy assistant at Vienna, and a few times a week Miner comes into work with her to help patients in rehab get strong again. Miner's story is special because whenever he's at Vienna's, helping people in therapy, you can feel an immediate difference in the gym's atmosphere. Patients are genuinely happy to have Miner there, and you can see it in their smiles. Miner isn't doing anything crazy at rehab. He's not doing any tricks or anything, he's just walking around, being his cute little weiner dog self and giving people approving kisses for their hard work and accepting belly rubs in return. Miner's story is such a great example of how you don't need to do anything extravagant to make a difference in somebody's life, you just have to show up and be you and share your love with others. At the heart of it, that's all Miner is doing, and the results of him spreading is his love are happier rehab patients with better results than you could get from any over priced pill.
Miner's mom, Becky has been a physical therapist assistant for six years. She's worked in several different types of therapy, but found helping in skilled nursing facilities is really where her heart is. "They're not athletes who are trying to make it to their next race, they're just people who are trying to live and get back home." she says. And because she's so passionate about helping these people she cares for, having a dog who could also help was a top priority for her. "A lot of people going through therapy are often sad and sometimes it's really hard for them to connect where they're at now to getting home. They don't see that segway. Then a lot of times when they see a dog they remember their old dog from home or their actual pet at home and it gives them more motivation. Plus it's fun for him (Miner). It gives him a purpose."
Miner might just think he's all in it for the treats, but he's really made a difference in patients lives. Becky shared about a one older gentleman who, despite all of staffs' attempts, refused to go to therapy. He just so happened to have a daschund of his own at home, and when Becky started bringing Miner in, this gentleman finally began going to rehab, and now he is living back at home. If it weren't for Miner, this man, who was too depressed to exercise, would likely still be living in a skilled nursing facility. Thanks to Miner, he found that extra motivation to do the work he needed to do and made it back home. What a difference one little dog can make in a person's life!
Miner motivates patients to exercise in therapy because their exercises have more purpose when he's there. They're not just walking for the sake of walking. When Miner is there patients are walking because Miner needs a walk. They're not bending and stretching just for the sake of completing their reps, patients are bending over to pet Miner or stretching to throw his ball for him. We all need a sense of purpose, and Miner helps give these rehab patients a sense of purpose: to take care of themselves so they can take care of him.
I've often heard the opposite of depression isn't happiness, it's purpose, and boy if this isn't a shining example of that. When these patients feel needed and like they have a purpose there's a huge change in their attitudes. That's why Miner is such a good boy. Every time he straps on his little therapy vest and shows up for work, he makes a huge difference for people. He is able to make a big impact just by being his cute little self and loving others, which is an important takeaway for all of us. Having a therapy dog like Miner is an easy and effective way for Becky to give back, and something she would recommend to anyone who has the time for training.
Good boy, Miner!