Looking for a more bike and pedestrian friendly Lodi? Check out the Greenline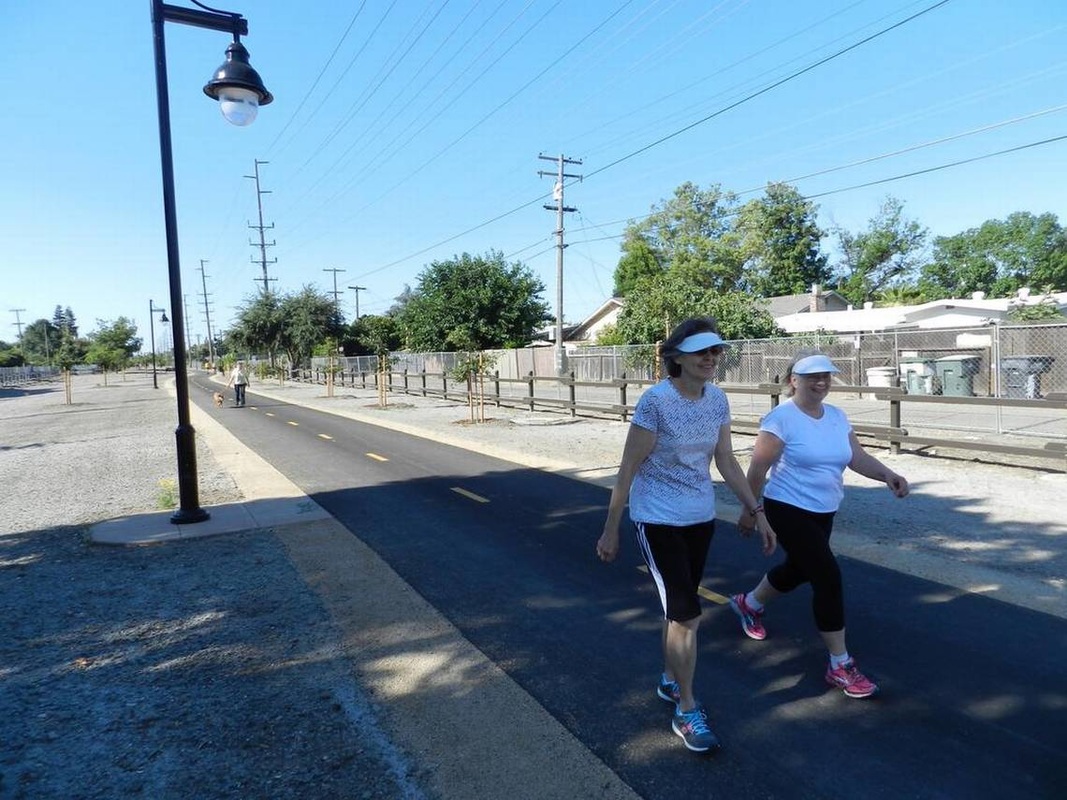 From Woodbridge to downtown, Lodi has about a 1¾ miles of track of unused railway. The tracks are pretty much abandoned and a lot of that unused railroad track space has started collecting trash. Honestly, the tracks are kind of an eyesore. The good news is there are people in Lodi working to solve that problem. Bike Lodi is working hard with the City of Lodi to get that unused railroad track space turned into a greenline. Doug and Salwa, two Bike Lodi members, were kind enough to sit down and explain this project. A greenline is a lane dedicated to pedestrians and cyclists. Cities all over are the US are turning their abandoned railways into greenlines, and communities have been loving the benefits. So why not here in Lodi? The 1¾ miles stretch would connect the Woodbridge to Downtown Lodi, giving pedestrians and people riding their bikes a safer way to get around. It has the potential to be a path for runners and dog walkers, cyclists getting around Lodi, and even most importantly, in my opinion, it would provide a safer route for the hundreds of kids living nearby going to and from school. It would be a win for traffic, a win pedestrians, and a win cyclists to have this section of land turned into a greenline.
How the Greenline would benefit Lodians
Doug, Salwa and Bike Lodi believe this could be a huge asset to Lodi. Greenlines have benefitted other communities around the nation, including our neighboring cities in the Central Valley. Manteca actually turned their abandoned railroad in a greenline 15 years ago, and it's beautiful. "When I was using the Natomas parkway it connected so many parks and schools." said Salwa. Salwa is an avid rider, and when possible she rides her bike instead of driving and loved using greenlines in other cities. "I would commute [into work] in the morning and back after in the evening. I would see parents with their kids, lots of people walking their dogs, people riding bikes, commuters like me riding their bikes to work and it was fabulous. It was going through neighborhoods and I never noticed any problems on the bike way." Some people have worries about safety if their home backs up to the green line, but what's happened in other communities is the greenlines have actually cleaned up those areas "I imagine you'd get some professional landscaping behind your house." says Doug. "I'm hoping you'd get some shade from trees put all along back there. You wouldn't get transients back there and dumping because that's already happening. It would be an amenity. It would clean up the area and increase traffic with people walking and riding their bikes. And I would imagine they would see an uptick in their property value having the abandoned railroad with all the dumping replaced with a beautiful walk lane." Bike Lodi presented this idea to the city council earlier this year, and they reached out to neighboring cities who have done this to get feedback from citizens. "Manteca did this 15 years ago. When we presented to the City, someone from Manteca came and spoke and she was like, 'I live against the greenline and I put in a new gate in my back fence so I can use it.' She loves it. People love it. She was nervous about more people going by her home and crime, noise and safety but now she loves it. Her experience has been very positive." says Salwa.
How does this work?
So how do we even repurpose the unused railway? Well there's a few steps. What it comes down to is that Union Pacific, who owns the railway, needs to officially abandon that stretch. When they do, the City of Lodi needs to be able to quickly swoop in and purchase it. After that, the city can get to work on beautifying and repurposing the land. Behind the scenes, the City of Lodi needs to do some research before Union Pacific abandons their railway. That way the city can know for sure that 1) this is something citizens want and 2) they have a viable plan. First, the City needs to do a feasibility study to make sure this greenline is possible. That's the stage Bike Lodi and the City of Lodi are in right now. Second, the City needs to have a project plan of what the greenline will look like. That project plan includes the fun stuff like aesthetics and also the important stuff like how will this integrate into the city with nearby roads and communities. Those two things need to be done before the City Council can make an educated on decision on whether or not the greenline is good for Lodi. The City Council also needs to know citizens want to see this. That's why Bike Lodi has been doing a lot of footwork to raise awareness. They've reached out to businesses and different groups and so far have been met with overwhelming support. The last piece to this puzzle is whomever purchases the old General Mills plant will also need to be on board with the greenline since they would be the only potential users of that railway.
Once everyone is on board and the research is complete (and this is expected to take a few years), Bike Lodi and the City of Lodi will approach Union Pacific and request they abandon the railway. If Union Pacific agrees, as they've done with other railways all over the US, then that's when things will really pick up steam (pun intended). The City only has a couple of months to make an offer and get things through once the railway is officially abandoned. That's why all this research is happening now, not after the railway has been abandoned. Once the City and Union Pacific have a deal, construction would begin and we would have our greenline- yay!
So who's paying for this?
Then comes the question I had and most of us have: if the city's budget is so tight, where is the money for all of this coming from? Glad you asked. Turns out there's lots of federal and state grants available for just these types of projects, and a lot of them are basically designed for cities like Lodi. "So there's a lot of sources for funding," explained Doug. "There's a big push in the state towards active transportation and reducing vehicle miles traveled for planning and development." Doug actually works for the State and helps award grant money for different projects, and he says these grants were designed to help cities just like Lodi. "I think it would be a shoo in for funding at every level. Lodi has a lot of air pollution issues, the whole Central Valley does. The state is looking at awarding money and they're looking for the Central Valley to apply because we have some of the worst air quality in the country. They're waiting for us to send in applications." As far as maintenance, most of trails in other cities have a volunteer led "Friends of the (fill in the blank)" who keep the trails clean. Groups like Tree Lodi have already taken interest in the project, and the Bojacks are confident that an annual deep clean, say on Love Lodi day, would keep the trial in tip top shape.
Interested or have questions? Here's your call to action!
If this Greenline sounds like something you would like to see in Lodi, or if you have any questions about it, visit the Lodi Greenline website or Bike Lodi's website to find out how you can support the project and see more pictures from other communities. You can also talk with City Council members to let them know you support the project. If you have concerns or questions, reach out to Bike Lodi and share your thoughts with them.