Not All Heroes Wear Capes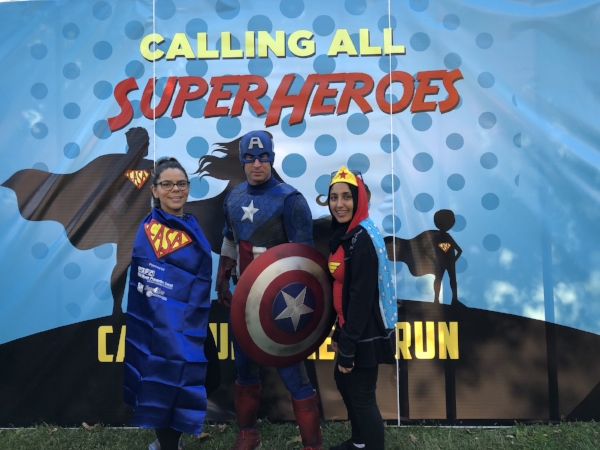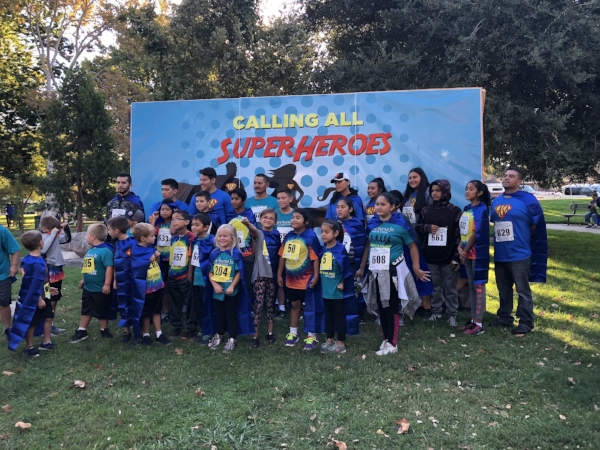 On the first weekend of October, families from all around Lodi put on their masks and capes and showed up at Lodi Lake to support foster kids in the area. They all came out for the annual CASA Superhero 5k. CASA isn't just the Spanish word for house. In this case, CASA is the acronym for Court Appointed Special Advocate. These advocates, or CASAs as they're called, stand up for the rights of foster kids. They're kind of like Big Brothers or Big Sisters, but with the ability to do more, like speak with the kids' doctors, teachers, etc. The CASA program is a really cool program and a great fit for big hearted people. Beth Lambdin is one of those big hearted people. She's a parent and a CASA volunteer. She took some time out during the Superhero Run to explain what it means to be a CASA, and talk about how the run helps the program.
"Someone told me, you should be a CASA! And I was like, uh, a house? Okay…" she laughed. "I could talk about CASA forever because I love this program so much. My husband and I have been advocates for 5 ½ years. I guess the best way to describe a CASA is, it's like being a parent but you don't take them home." Each CASA gets one case and that can mean one child or a group of siblings. CASAs are trained and background checked so they can be an advocate for that child's rights, but their most important role is to bring some love and happiness into that child's life. "You have to understand how broken the foster system is in order to understand the need. If you don't understand the problem, you can't be part of the solution. It makes my heart hurt because that's not how it should be. You know these kids are abused and neglected by their biological parents, the people who should love them more than life itself, and then they're put into homes who abuse them in a different way." Beth explained. She's right: in order to fix a problem you need to understand the problem. Then that problem becomes an opportunity to make a difference. "You get to the point where you're like okay- these kids need a caring, loving adult in their life. Stanford did a study years ago that found foster kids who have one caring adult, just one, that it makes a night and day difference in their success. So that's what we are. CASAs are that one caring adult."
Beth does a lot around town. She's spent most of her life in Christian education. Some readers might recognize her from her years as a teacher, or because she and her husband founded Jim Elliot High School 20 years ago, or you might recognize her through the ministry she now runs with her husband. Despite all those huge contributions to our community, according to Beth, being a CASA is one of the most satisfying and rewarding ways to make a difference. "I tell people, we've helped a lot of people throughout our lives. My husband and I have spent our lives committed to helping others, mostly teenagers and young people, but this (being a CASA) is the biggest bang for the buck. We're helping the throwaways of our society. And we're not just changing those kids' lives, they're changing our lives." I think it's so important to look at Beth's story. Think about what an impact she and her husband must have made starting an entire high school in Lodi that's graduated probably thousands of kids. But where does she feel like she makes the biggest impact? Through being a CASA. Take it from a Lodi woman who has done it: you don't have to open an entire high school to make a difference. If you really want to make a difference, help one child who needs you. A lot of times we think we need to do some grandiose gesture to really help, and we think, oh I can't do that, I don't have the time/money/connections or whatever. But that's not true. You don't have to do something big like that to change lives. "This can change a person's whole life, and it's like wow… How often do you have the chance to do that outside of your realm where you can actually change a person's life." says Beth. When you look at it like that, no wonder Beth and other CASAs are so excited about the program.
I chatted with Beth for a while and there were a couple of things I took away from our conversation: 1) this woman is passionate 2) when she says she loves kids, she means it, and those kids love her, and 3) the most important part of being a CASA is simply just loving the kids. "When we started we had a little 7 year old guy. He was part of the sibling group we had. My husband and I met with them every week." said Beth. "We were about 6 months in and I had to miss a week because I was visiting my adult daughter in New York. I came back the next week and the little guy was just wouldn't stop touching me He was just pulling on me, holding on to me, and so I was like, oh no, something's wrong. Something happened to this kid! So I asked, 'Is everything okay, hun? Is somebody hurting you?' Because it was just so weird. And he just looks at me like, what? And I said, 'Well you're being very clingy today, and that's fine, but I just want to make sure everything is okay.' And he looks up at me and he goes, 'Oh no Miss Beth, it's just that you're the only one that ever hugs me.' 7 years old. How do you not hug a 7 year old boy? In his home there was no meaningful touch, there was no care, there was no concern. What I tell my CASAs when they're trained is that if we don't do anything else, even if we don't do amazing things with these kids, if we just love them and be there and say we care… that is enough. That's why CASA is so important."
This Superhero Run was a great opportunity for people in Lodi to support some of the really valuable work CASAs do. Everyone dresses up as heroes because that's what a CASA is, a hero. They may not wear capes every day, but they're heroes to these kids. This run helped support the program's general operations. There's about 88 CASA volunteers in San Joaquin county who were supported through this run. "We have a really small group for all that we do. We have 5 team members who are paid staff. Four of them are full time one is part-time and they work with all the CASAs. All the CASAs are volunteers." explained Beth. "The national program is set up for every 30 volunteers you have, you have to have a paid staff who works with them called a case manager, and that makes sense because it is a complicated system to navigate." Another goal of this Superhero Run was to raise awareness for the program. Beth says as long as there's kids in need, they're always looking for more loving adults to be CASAs. Because after all, not all heroes wear capes.
If you would like to learn more about CASAs, visit their website by clicking here.