Santa Visits Two Very Special Families Thanks to Lodi's Young Professionals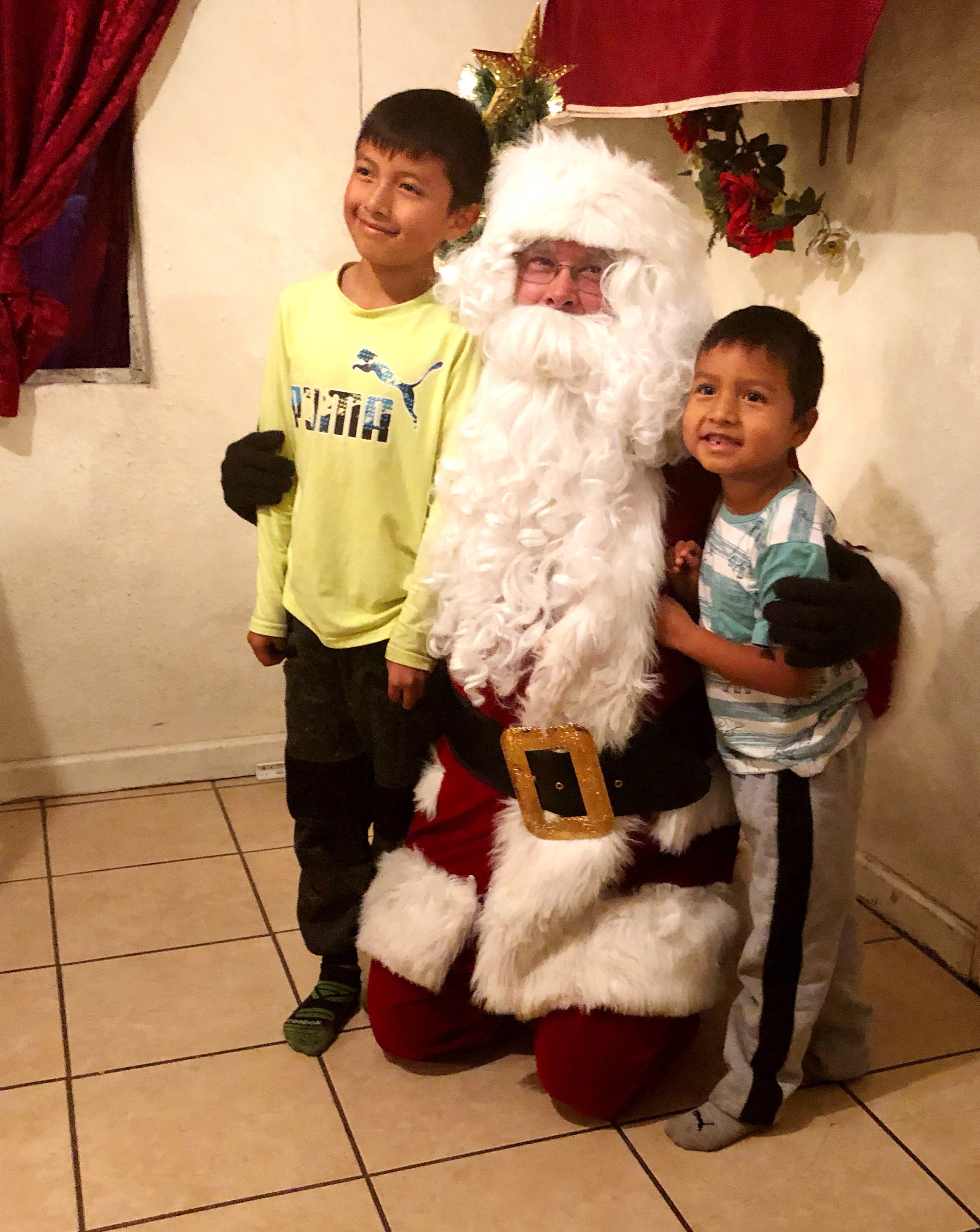 Lots of folks have a tradition of giving back during the holidays and Lodi Live is sharing those traditions. One of the beloved traditions comes from the Young Professionals of Lodi (YPL) and is a two part give back. The first part, free pictures with Santa, was already covered in the Lodi Live publication. The Young Professionals create a really cute set at the Woolworth building in downtown and offer free pictures with Santa. Since they started, hundreds of Lodi kids have come through to sit on Santa's lap. Some get really excited and give him a huge hug, some get a little overwhelmed and cry (it's a lot of pressure meeting the guy in the big red suit), and some do what my kids have done each year and act indifferent about the entire experience (tough crowd). Whatever your kid does, parents are grateful to not have to make a trip to the mall to get a picture with Santa. Something a lot people don't know about this tradition is a couple weeks after the pictures, Santa actually delivers presents to a few of the kids who came see him. Here's how it works: while the kids are waiting in line to get pictures they can write their Christmas wish to Santa. YPL members select certain kids whose wishes they would like to grant. They do that by talking with the kids and parents. They try to get to the root of why a kid is asking for certain gifts, and identify families who could most benefit from a visit from Santa. After the event, the YPL reads through those specially selected letters and they choose families' whose Christmas wishes they'd like to grant. This year, the YPL granted wishes (and then some) for two special families. They purchased all the gifts, and coordinated a time with Santa and the families, then went and did deliveries. Eliza, one of the members who runs the event, invited me to go along first hand to check it out.

We got to the first house and got all situated. We made sure Santa was looking nice and Santa-y and that we had the right bag of gifts. Once we were all set, Santa started his routine. "HO HO HO!!!" We walked up the driveway. "HO HO HO!!!!" Then we saw the front door wildly jiggling then two little boys popped their heads out. "Santa!!!!" Those kiddos couldn't open the door fast enough. Santa came in with a bag of goodies for the boys, gave hugs, and took pictures. The presents went under the tree (where the boys promised they would stay until Christmas morning) and the parents were given a little gift too. The family was so excited. The boys were thrilled to have Santa in their home and the parents took lots of pictures with their boys and Santa. After that, we headed to the second stop. The second stop was at an apartment complex, and as soon as we started walking over, Santa started again with his "HO HO HO!!!" We heard a door slam open on the top floor and a little boy yelled, "Santa's here!!!" This second boy was a little older than the first two boys and quickly invited us in. He was beside himself. He showed us his Christmas tree, along with the stocking he had just hung in preparation for Santa's arrival. This sweet boy knew what Santa needed to get the job done and he delivered: a tree to put presents under and a stocking to hang gifts in. It was so earnest and evident he had put a lot of care into setting up for Santa. Again, Santa unloaded his gifts and took pictures. The boy made sure he had a good picture with Santa, and Santa made sure to check out the boy's Christmas set up. Then Santa gave a gift to the boy's Grandma, made the boy promise he would clean his room, gave big hugs, and we were off.

When it was all said and done, the YPL members reflected on this event and why they love it so much every year. "This part is my favorite thing YPL does. Delivering to the families," shared Jennifer. Jennifer Verdon is a Wedding and Event Coordinator, and is one of the young professionals who uses her skills to help set up pictures with Santa. "Sometimes they don't have a lot. I mean, one family didn't have any presents under the tree. To be able to give them something special on Christmas is important and worthwhile." "Every kid deserves to open a present at Christmas. Every child does," agreed Elisa, the Chamber's Director of Communications. "And every one of those kids was excited to see Santa. Every one of them was excited. There wasn't one who was like 'Oh, Santa is here, whatever.' No, the first little boys couldn't open the door fast enough. And his reaction when he opened the door, that was just perfect."

"It's all pure joy, honest love," said Santa. Santa is played by Donald Brown. He plays Santa for a few different events around the community and his wife even has a beautiful Mrs. Claus outfit to go along with him. As everyone was sharing how fulfilling it was to bring the kids toys, Santa pointed out something else. Each parent got a present of a gift card to Walmart. "They can buy food or more presents or whatever they feel, as parents, they need for their Christmas," explained Santa. "I think it's important that parents get an opportunity to buy something for their children. It's not just us showing up and giving, they actually get to take part in it so they don't feel so disconnected. You know, when you're a parent you want to be able to take care of your child. And when you're having a hard time doing that it's a difficult time. So giving them the opportunity to do something is important. It brings them closer." That resonated so much with me. It's a blessing to receive gifts for your child, and it's obviously something these parents appreciate. Being able to go to the store yourself and pick out that perfect gift is an entirely different type of gratitude. I think that might be the biggest and best gift the Young Professionals give.
The Young Professionals of Lodi started this great tradition about five years ago and it's one of my favorite traditions. It's a tradition that benefits hundreds of kids, plus makes a huge impact on a few special families. The YPL pay for this with their annual Casino Night fundraiser and the success of the event impacts the amount of families whose Christmas wishes they can grant. So next year when you see the YPL's Casino Night, know this is the good that comes from it. And when you see the flyers and social media posts about free pictures with Santa, know the backgrounds will be cute, know there will probably be some hot chocolate, and know that a few special families in Lodi will be seeing Santa again in a couple of weeks as he makes a special appearance to help them have a very merry Christmas.