Why Being a Little "Extra" is a Good Thing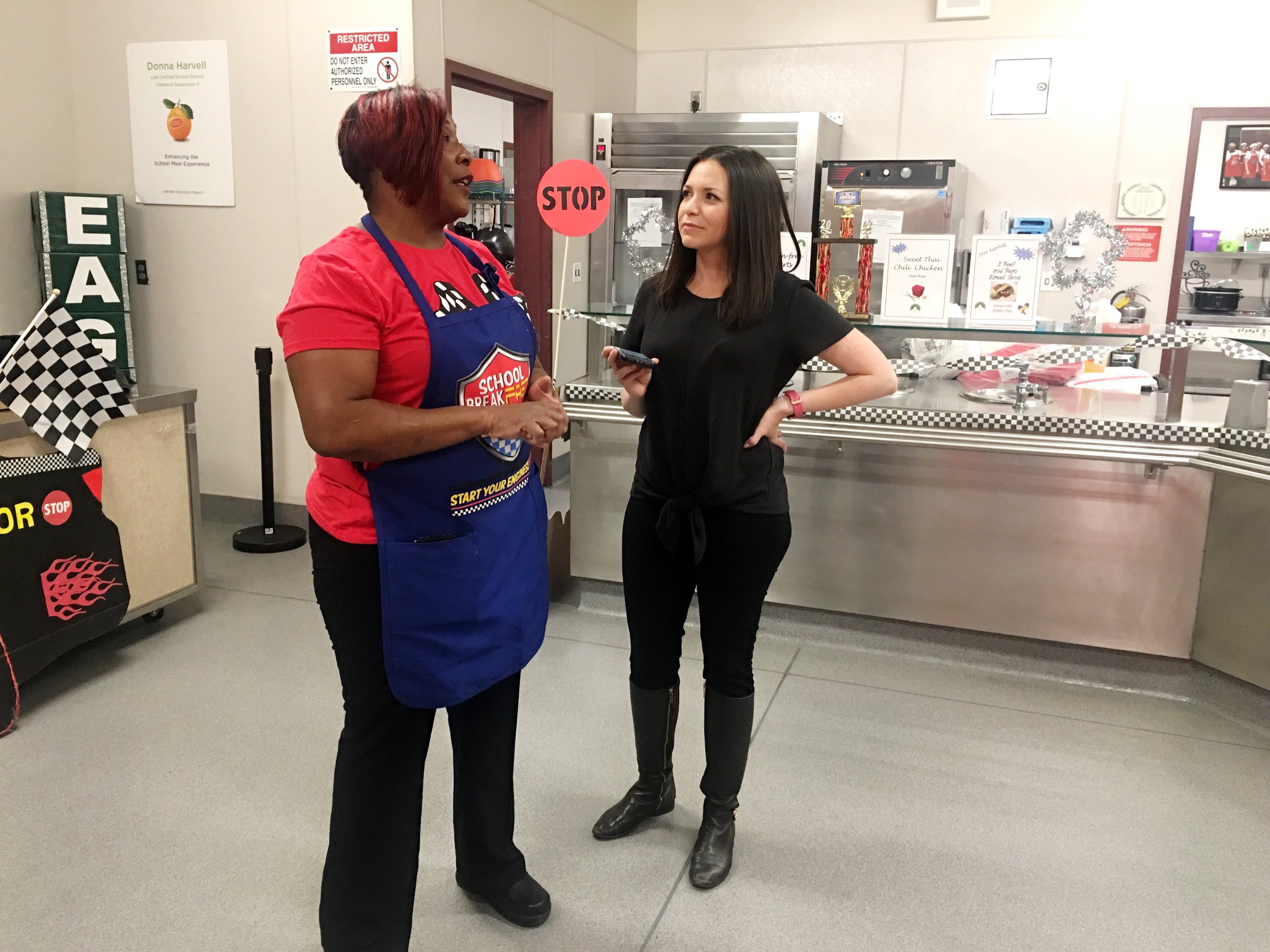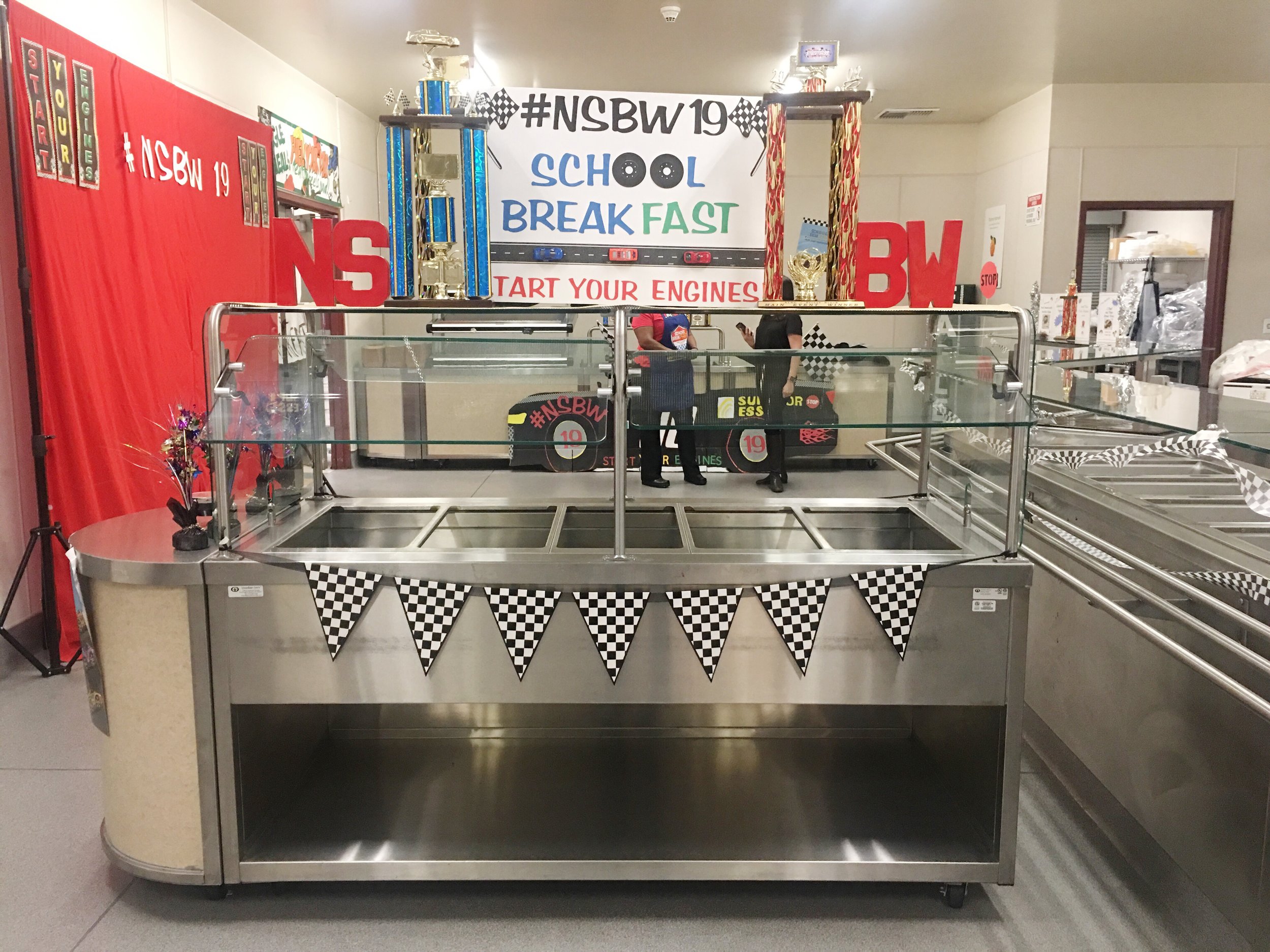 Last week was National School Breakfast Week and at Lodi's McNair High School that means it was one charming lunch lady's time to shine. We know kids who aren't hungry do better in school. We know everybody no matter what age does better when they're not hungry. Breakfast is an important meal and National School Breakfast Week is one week when school food service programs really push the importance of breakfast. They do this with fun themes and fun foods. We also know, it takes a special soul to work in a high school. I have a couple of friends who are high school teachers and they were born for it. They walk into those classrooms and immediately gain the kids' respect. I, on the other hand, substituted a couple of times at the high school level and will never, ever, ever do that again. This where Donna comes in. Donna's official title is Cafeteria Supervisor, but the kids know her as one of the lunch lady. Donna genuinely loves the kids and those kids seem to love her just as much. She might be in a traditionally more supportive role within the school district, but she's taking over the stage as the star. Thanks to her, the kids at McNair High School really benefited from the school breakfast program and National School Breakfast Week. This story has two feel good take aways: 1) how lucky we are that the kids in Lodi don't have to worry about being hungry during the school year thanks to programs like the school breakfast program and 2) there are wonderful, caring people working throughout the school district who love our kids and are bending over backwards to support them and to bring them these amazing programs.
Before I get into the woman of the hour (her name is Donna, by the way) let me give you a little background about National School Breakfast Week. National School Breakfast Week (NSBW) is a week when school nutrition programs across the United States band together to encourage kids to eat breakfast. "In the Lodi School District we have universal free breakfast," explains Susan Henderson (if that names sounds familiar it's because she is also the Lodi Live editor and my mama). "That means everybody eats breakfast for free. We want kids to eat breakfast because kids who eat breakfast have been shown to do better academically. They also have been shown to do better behavior wise. They're happier kids because they're not hungry." McNair is actually the only high school that offers something called second chance breakfast. High School starts early. It's hard to convince kids to come any earlier to eat breakfast. So what they do at McNair is between the 1st and 2nd period, is provide hungry kids with a free little breakfast. It's in a little baggy so it's easy to grab on the go, and self contained with the goal of creating minimal (preferably zero) mess. Not too many kids make it to breakfast before school, but a LOT of kids benefit from this second chance breakfast.
Breakfast is important, but what makes NSBW exciting is people like Donna. Donna has a lot of fans and I'm now one of them. She is self described as "extra" and she's not lying. When I went to McNair to interview her at 6:30 am, she was already full of bubbly energy and hugs. It is no wonder the kids love her! The theme for this year's NSBW was race car themed ("Start Your Engines with a Healthy Breakfast"), and when I got to McNair the cafeteria was covered in race gear, from flags, to posters, to trophies to Donna's signature decoration piece: the photo booth. "Well Nancy [the Director of Nutrition Services], my supervisor, the staff, they all call me 'extra,'" laughed Donna. "And you know what? I am extra! I am truly extra and people know that's what they're going to get out of me! I like to go above and beyond. Christmas time one year my boss told me, 'Donna, it looks like Santa threw up in here.' I'm extra, I can admit that, I'm that girl. And the kids just love it. The kids love that I make things special for them."
Donna loves her job and she makes weeks like NSBW special. Something that could easily slip by as a random week is turned into a huge event that kids are excited for and look forward to, thanks to Donna and her, yummy pull apart bread. I really can't write enough times what great energy she brings to the table. Donna is genuine and enthusiastic and right off the bat, you can't help but love her. Every holiday and every school event, Donna turns the cafeteria into a place of celebration. She goes to town with decorations and she even has a photobooth that the teens love. "When I came to start working with highschooler students, I was thinking, what can we do for our student at a highschool level?" explains Donna when I asked her how she came up with the photo booth idea. "I was at elementary for years and I was really able to get into that because they're little kids and that's easy. But I had to think of something different to do at a high school level because these are almost adults, and that's when I came up with the photo booth. It went big and the students love it. Another school also tried the photo booth but I told her you can't just put the photo booth there, you have to also get involved. I start it off and I'll say things like, 'Come on girls, take a picture with me! Let's get cute!' so I get them involved." The photobooth is impressive and the kids, like she said, love it. In the auditorium, there's a big screen TV and pictures students have taken in the photobooth rotate through. "The students remember things like this. When I run into the students years later they say is, 'I remember your photo booths, Miss Donna.' So we just try to make it special and give them something to remember. Even when the photo booth is not up the kids will chase me down like, 'Miss Donna, when's the next photo booth coming up?' They love it."
What's so great about having somebody around like Donna is the whole school got involved in NSBW. She's able to get kids excited about making healthy lifestyle choices because they respect her. She doesn't have to do what she does and go all out with the decorations, but she does because she loves the kids and she loves making them feel special. When it came time for NSBW and she needed help, the student government got involved and made posters to put all over the cafeteria. The art class helped her make the car for her photobooth. One of the gym teachers even gave her a bunch of shirts to hand out as prizes during lunch. How many other schools had so many departments working together to support healthy breakfast programs? I think this story shares three great things: 1) how amazing it is we have a school district that makes sure none of our kids go hungry during the school year, 2) how amazing it is that Lodi Unified School District has amazing people like Donna who make our kids feel special and valued, and 3) how having someone like Donna can make a program a huge hit amongst our toughest critics: teenagers. Donna is extra. She is extra special. She is doing extra things to help our kiddos, and how lucky are we to have people like her in our kids' lives? Thank you to our schools for feeding our kiddos, and an even bigger thank you to Donna for loving our kids the way you do!