Carrying on Todd's Legacy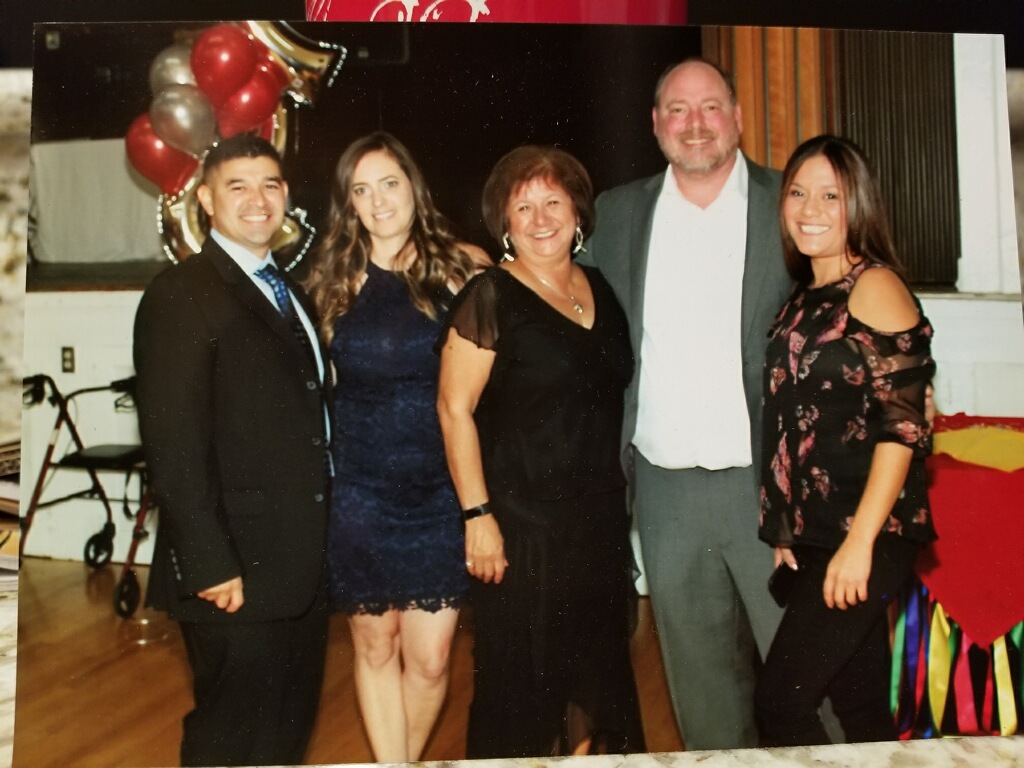 I told a friend this week's story about Todd Hausauer and his family. Todd worked at Lodi Unified School District and she does too, so I wondered what her experience with him was like. I asked her if she knew Todd and she didn't. He had passed away only a short time after she started working there. "All I knew about him was that he was one of those guys you just looked at and knew right away he was a nice guy. He had a face that just looked like a really nice guy," she said. "I never met him, but I recognized him. Then all of the sudden one day I remember everybody at the district was really upset and I found out he had passed away." My friend's brief experience with Todd seems to be pretty spot on. He was a really, really nice guy who was well loved and he passed away very suddenly. Six or seven years ago, Todd had found a mole and it turned out to be melanoma. It was removed and everything seemed to be going well. Then a few years later the melanoma came back and this time had spread to the lymph nodes and another spot. In March of 2017 he had surgery and started treatment. As far as everyone could tell the treatments were working. Then on New Year's Day of 2018, out of the blue, he had a seizure. That's when they found the melanoma had spread to his brain. Todd passed away a few weeks later. He was only 51. Among other things, Todd was a loving husband and father, a huge fan of the band Rush, and a kind friend and philanthropist. It happens often when someone passes at an early age, their story can get wrapped up in how their life ended. Todd's family has decided his final note won't be about cancer, it will be about continuing his legacy as a loving man. Todd gave a lot to many local organizations and on March 16th, his family is holding a fundraiser to continue charitable giving in his name. This story is about the good that Todd, even in death, is continuing to leave in our community. Todd loved his community and he loved his family. Now his friends and family are combining his passion to serve others with his love for the band Rush to continue his legacy.
Todd was the guy who was there if you ever needed anything. He held every position in the Eagles Club and was also part of the Moose Lodge. "Todd was very involved in the community," explained his wife, Liz. "He was also a part of the Italian Club, which he's not Italian, and the Mexican American Lions Club, which he's not Mexican. He's German," she laughed. "He got involved in these groups because he wanted to be an active community member and do for others. And these groups do that; they do for others. They do things like fundraisers. For example, Todd was in charge of making spaghetti dinners. So if there was a family, maybe they had a daughter or son who had cancer, Todd would be there to help." Sherli, Todd's stepdaughter chimed in, "Or if you had an ingrown toenail, Todd would be there making spaghetti for you." They laughed. "He would be the first one to be like, 'Okay, we have to go do this for the family.' He was quick to volunteer and put together a fundraiser."
Do you ever go to those fundraisers and wonder to yourself, "Who is making all this food?" That was Todd. Liz likes to joke that he knew how to cook for 100, 200, even 500 people, but not for two (her and him). Todd had a mean spaghetti recipe that friends are still trying to perfect. Whenever anyone needed anything, Todd was there, often ready with spaghetti. Todd couldn't say no to anyone. Not only was he super involved in all of these clubs, he was also an active member of the union at Lodi Unified School District and would help others at the district with their grievances. And of course, with fundraising. Todd was a philanthropist and now that he's passed, his family wants to continue giving in his memory. "I don't know if it's part of grieving too," said Liz. "where you don't want that memory to be forgotten. I want people to still remember all he did. I want them [her kids] to be reminded that's what he did. So we want to do what he would do. We're not as good at it, but we're learning. And we want it to be successful for two reasons, in memory of him and because we want to give."

In honor of Todd, the family is holding a dinner and concert with a Rush tribute band, Rash. Todd loved Rush. The family has memories of him blaring the music, and they even used Rush's music to help Todd during his final weeks when he was in hospice. Having a concert with the Rush cover band was Todd's stepson, Nicholas's, idea. "I distinctly remember Todd asking me a couple years ago if I wanted to meet him at a Rush concert in Las Vegas," said Nicholas. "He was there for a work conference and it was like a thing where I would have to leave Wednesday night, take off work, so I didn't make that concert. I kinda regret that. My thinking was I want to have this concert but I also want to have this fundraiser because that was the foundation of his being." The concert will have Todd's favorite music and proceeds will go to his favorite charities plus Hospice of San Joaquin who have been a beacon of support during this difficult period of grieving. It's even being held right after his birthday weekend. There will be little details of Todd all over. "The memories everyone has of Todd is him giving them a big kiss on the cheek. He would give everyone a big bear hug and a big kiss. And you knew it was a kiss because you would have to wipe it away," laughed Sherli. "Even the guys that didn't want a kiss. They got a kiss," smiled Liz. "And big bear hugs. One of my friend who is helping plan this, one of the things she mentioned is that she wanted to do something with bears because everyone knows what kind of big bear hugs he would give."
You know that quote by Maya Angelou, "I've learned that people will forget what you said, people will forget what you did, but people will never forget how you made them feel"? That's all I could think about the whole time I was talking to Todd's family. That man was love. It's clear he made people feel good. "You know, my favorite memory of Todd is that I can say he totally loved me," said Liz. "He would tell everybody. A lot of people told me that. He would always say, 'Look at my wife. Isn't she beautiful?' And I would say, 'Stop it,' because I was married to him a long time, 25 years. That's probably my favorite memory of him. He thought I was beautiful. And no girl thinks they're beautiful, but he always said that. He always told people how much he loved me." Nick and Sherli, who I also spoke to, are Todd's stepkids. He married Liz when Nicholas was 5 and Sherli was 9. "It's not really memories for me, it's more how I'm thankful of how he raised me," said Nicholas. "He had me hold the light for him while he was working on cars and that kind of stuff that no kid ever wanted to do. But I learned. And now, I'm like to my own stepdaughter, 'Hey, I need you to hold this light for me.'" Sherli and Nicholas laughed. "We both [she and Nicholas] have stepkids so now we understand," said Sherli. "We went on so many new adventures with him and new places and did so many new things we had never done before, so we're really grateful," she said.

This fundraiser is more than just a way to give back to all of the causes that Todd used to support; this is a way to give back the love he used to give and continue his tradition of caring for others. What a gift he gave to make everyone around him feel so loved. Todd leaves such a great example of how being kind to others can have a huge ripple effect, since now his wife and step-kids are extensions of his kindness and philanthropy. We're so lucky to have had his kindness in our community and to know that even though he's still able to help those he loved.

To learn more about the event, click here to check out Eventbrite or the Facebook event page.