Living The Dream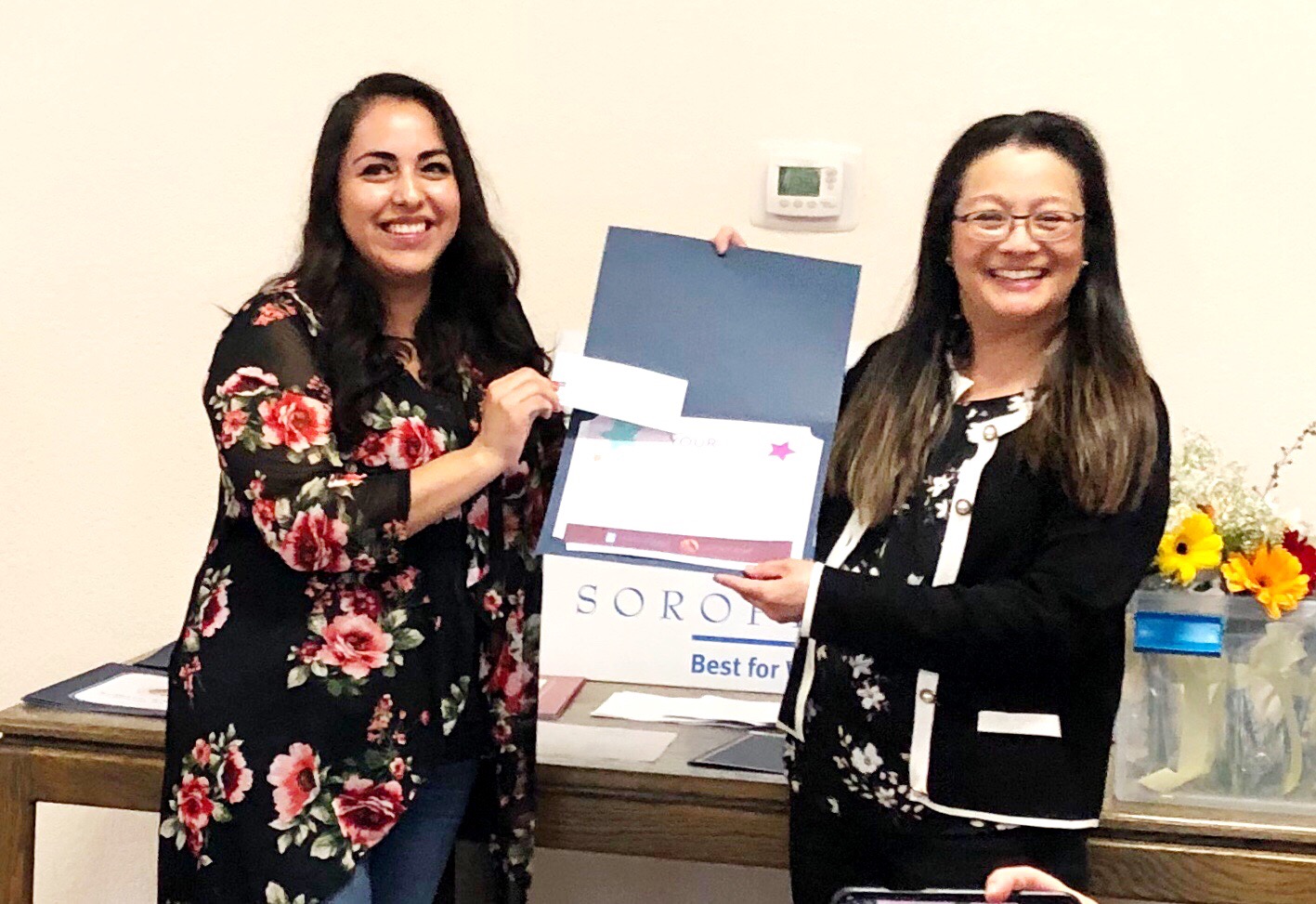 Last week, 5 Lodi women got one step closer to achieving their dreams. These 5 women received a cash award from the Lodi Soroptimist group and at the dinner, where they received their awards, they had a chance to tell their stories. The Soroptimist International is a service organization designed for and by women to help improve the lives of other women in their community and worldwide. One of their signature programs is called the Live Your Dream award. This past week those awards were handed out to handful of women in Lodi. I had the pleasure of meeting these women who received the awards this year and wow. Talk about inspirational. What I saw when I was at this awards dinner was 5 women who decided they were not going to be the victims of their circumstances. Some of these women have moved mountains to get to where they are today and are still pushing to get even farther. Study after study proves if you want to improve a group's socioeconomic status and better a community, you must empower the women. That's why the Soroptimist have awards designed specifically for women who are working hard to improve their lives. This week they gave out two types of awards, the Live Your Dream award and two awards in memory of fellow Lodi Soroptimist. Those checks went to some of the most deserving and accomplished women in our community. I want to briefly introduce the 5, Lodi women who were recognized that night. These women could easily have been victims of their circumstances. Instead, these have decided they deserve happiness and a good life, and even better, they feel compelled to help others.

To receive a Live Your Dream award, the signature Soroptimist award, recipients must meet a few criteria. These awards assist women who provide the primary financial support for their family, and need the award to improve their education, skills and employment prospects. Lodi is such a lovable little town, it's easy to forget that there's people here who are going through serious struggles. The first woman who received the award was beautiful and with a really sweet smile. They said she wanted to be a teacher to young students and with her demeanor that made a lot of sense. What I never would have guessed, was her background. "She is a survivor," said one of the Soroptimist introducing the award recipient. "After leaving her emotionally abusive relationship with her husband, she and her daughter found themselves homeless. They moved from house to house temporarily the living rooms of friends and family. While being homeless, she worked two jobs with 15 hours days. This was in addition to being a mother." This woman, the aspiring teacher, was accepted into the Lodi House and after graduating from the Lodi House program, she and her daughter now live in their own apartment. Today this woman is completing her AA in early childhood development, and transferring to CSU Stanislaus to complete her education.
Another Live Your Dream Award recipient had been a CNA (a certified nurse assistant) for 7 years; a rewarding job but with very low pay job that is really hard work. Her dream was to earn a bachelor's degree in nursing. This woman was working over 40 hours a week and going to school. She saw her classmates dropping out because they could not maintain the grade point average and work to support their families. She made a brave decision to quit her job so she could pursue her dream. She thought she would qualify for unemployment but found out after she did not. In her application she shared, "I had to file chapter 7 bankruptcy and close my bank accounts since I have no income… But I believe you have to sacrifice time and effort in order to achieve what you want. I am determined to become a nurse and make a difference in this world. I am the role model to a very smart 3 year old."

The next awards were given in memory of two Soroptimist who had passed away. They were called the Achievement Awards What was nice about these awards is they could be given to any women working to improve her life and further her education, she didn't have to be the head of her household. I was sitting by the first woman who received an award. She's a beautiful woman with a really strong presence. She's one of those people who when they speak, people listen. If her HR goals don't work out (which I'm pretty sure they will), she needs to be motivational speaker. "I am all of the following," her application stated. "A convicted criminal, a mother without a child, a sexual assault survivor and so much more. I've always tried to live my life by encouraging others, loving others, and operating with integrity despite my many flaws. While I had a difficult childhood, I am thankful my mother emphasized the importance of hardwork." This woman graduated with a degree from CSU Stanislaus summa cum laude in 5 years, while working 3 part-time jobs with her degree in Political Science. Her ultimate goal is a Masters in Human Resources. "There were so many people that poured into me to allow me stand before you. I remember Dr. Graham [of San Joaquin Delta College] and what he said to me on that first day of class, 'Make no provision or excuse for failure.' I would encourage us all to be relentless in whatever you're chasing after. You absolutely will have trial and you will have setbacks. I had a passion to be a teacher but because 20 years ago I committed a misdemeanor crime, when I passed the CBEST and was offered a job the state of California denied my credential to be a teacher because my crime was in federal court so it cannot be expunged from my record. I tried to knock on every door to get my certificate and I eventually had to shift my purpose and follow a different dream. I just want to encourage everyone, especially the nominees, don't give up. Because had I wavered in my education or dream, I would not have this position that I have now at the state of California. I'm not a teacher, but I have new plans to help and encourage through a new outlet."

The last two winners were two young, cute sisters. They look like your typical teen girls, with those big excited smiles and excited energy but they are definitely anything but a typical teenage girls. "This first young lady is dedicated to academic excellence as evidence by her high school record," shared the woman who nominated her. "She graduated 56th out 272 from her high school and was an athlete as well. She made the Dean's list and had outstanding grades throughout her high school career. She went to Harvard Summer School Camp. Math and science are like second nature to her. She currently attends Delta College and is pursuing a degree in nursing and wants to continue to study science and medicine once she graduates and transfers on. She'll be doing a summer internship in China to learn about public health. Throughout her young life she has already lived in 20 different foster homes, in addition to staying in the Mary Graham Shelter. Education has always been a priority to her. She is so passionate and disciplined and so motivated. She has excellent follow through, a terrific work ethic, and on a personal note I can say she is one of the sweetest most grateful and caring people. She has such a caring soul and the sweetest voice. She's an absolute joy. I admire how you're always looking for the best in people, the best in circumstances, and you're looking forward to a bright future, and you will have a bright future because when you look for it you find it."

This girl's sister is by no means living her in her sister's shadow. The two of these girls are the types of girls who can take over the world. "She is also an amazing young person dedicated to academic excellence," said the woman. "She and her sister are the first and second people from their family to graduate from high school. From early on, this young woman has said, 'I want to earn my way in life. I want to take care of myself. I don't want to be dependent on other people.' Now not only did this young woman graduate from high school, she graduated in 3 years with a 4.05 GPA. She too is a great athlete who played basketball, track, and volleyball while holding down a job. She took AP classes so she graduated high school with college credits already. She graduated high school at 17 and had to go to court to get the judge to sign off to allow her to move into the dorms as a minor and she did that. She currently is at Sacramento State University and she too is pursuing a career in health sciences. She is exceptionally self disciplined with a tremendous work ethic. She is delightful, so appreciative, and such a strong willed and kind and gentle at the same time. I feel so fulfilled everyday when I have the opportunity to work with both of you."
I had such an inspiring night listening to these women's stories. These women who received these awards weren't given that solid foundation that so many of us grew up with, but they're not letting that be an excuse between them and their happiness. These women are going places. I feel so fortunate that I got to hear from these women because it ignited something in me to do better and to not make excuses. I'm so thankful for groups like the Soroptimist and Lodi House and the Mary Graham Bell center and all of the other supporters who recognizing the strengths in these women and lifting them up. It amazed me how every woman who received an award had a passion to give back to others. Despite their hardships, giving back is at the forefront of their mind. This event was such good a reminder to be kind to others. I never would have guessed what these women were going through because on the surface, they look totally pulled together. It was a great reminder that we don't know what someone is going through, so to always treat others with kindness. What a gift to us to know that there are strong, passionate, admirable women like this, relentless in their determination for a better life, committed to the betterment of themselves and others right here in our community. That's definitely the livable, lovable Lodi I know.

For more information on the various groups mentioned, please see links below: