Lodians Love to Love Lodi 2019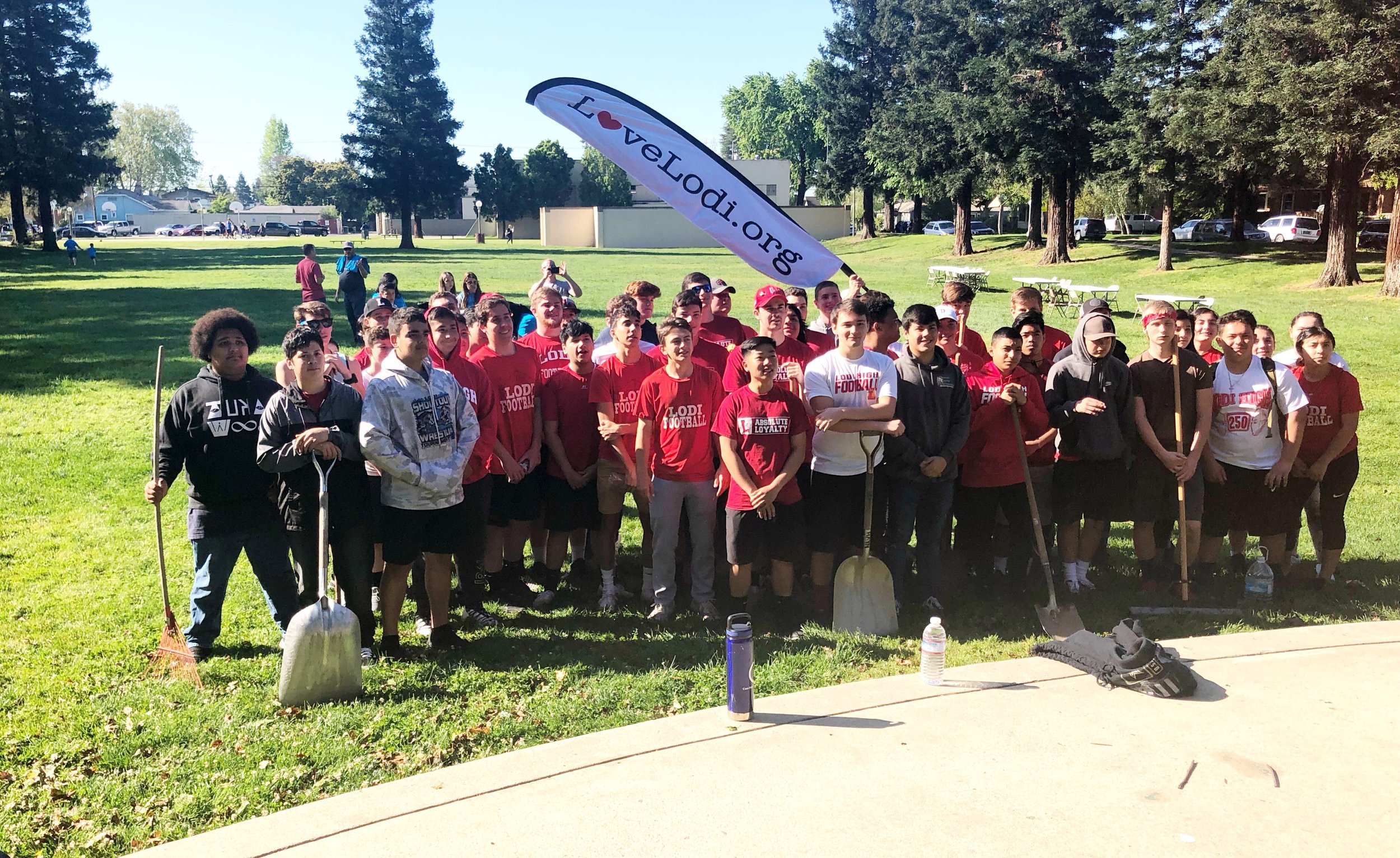 This weekend close to 2,000 people from Lodi woke up early and showed up to give back. Love Lodi is one my favorite days because it's a day we get to see how much people really care about our little town. I love how it feels when you show up at the rally, or when I'm going around interviewing people because everyone has such great energy. People are energized and enthusiastic about coming out to make a difference. It feels good and it makes you feel so proud to live here!
The backstory on Love Lodi is that it's actually part of a bigger campaign called Love Our Cities. It was started in Modesto by the Big Valley Grace Community Church. According to their website, "Love Modesto started in 2007 with two big questions: 1) Why is our city on lists of the 'worst cities in America'? 2) If our churches were to suddenly disappear from the Modesto area, would anyone even care or notice?" What it looked like was awesome. Since then 60 other cities have joined in, including our livable, lovable Lodi. I have yet to visit any of the other communities but I bet ours is one of the best (I have no proof to back this claim up, I just know how special our town is). Each year Love Lodi gets a little bit bigger and a little bit better. What started as just as faith based project has quickly grown to include all sectors of our community because you know what? We all love Lodi! On a practical level, what I really love about the way Love Lodi is growing is I'm seeing a lot of organizations working together to make a difference. Service clubs, city organizations, schools, churches, nonprofits, and more, everyone gets in on this day and says, "How can we make it as easy as possible for people love Lodi?" How cool is it that Love Lodi day is on the same day as Dollar Dump day? That makes it so much easier for people to give back!
I've covered a lot about the idea and the beauty behind Love Lodi (you can read more with interviews from the organizers here and here) so for this article I want to highlight a few of the volunteers who showed up this Saturday read to get their hands dirty and give back. I didn't have a chance to make it out to all of the projects because I was out with my own kids showing them the importance of spreading kindness but I was able to talk to a few different groups. If you were out at Love Lodi I definitely encourage you to share your experience with others, whether that be on social media, in your service group, at your church, at your work, or wherever, and inspire your friends to join in on the action for Love Lodi 2020. Now here's how a few different groups were giving back this weekend.


Marina Narvarte, Lodi Chamber of Commerce's Hispanic Business Committee
Feeding the volunteers
"One of the reasons we are here is because we wanted to volunteer and feed the over 1,500 volunteers before they start going out into their field to do their project."
What's your favorite part about Love Lodi?
"Everything! We love all the people who are out here to volunteer!"
Rosie, Girl Scouts
Cards of Encouragement
"My name is Rosie, I'm with Girl Scouts, Troop 1895. Basically what we're doing here is we're making cards for 6th, 7th, and 8th graders who feel bad about themselves. It's our Bronze award. I started this because I wanted to support others. Sometimes I need that extra support and I don't feel good about myself so I wanted to help others feel good about themselves and extend that love out to others. We have all these volunteers and it makes me so happy everyone is here to volunteer and they're helping me make cards and sort everything out. It's been really cool how many people are out here helping."
Kelly Brizendine & Deb Cox, Dr. Brizendine's Office
Re-barking the Playground at Hutchins
"To support our community and help and do good things for other people. Clean things up and make them look nice."- Deb
"Instead of just demanding that it's always to be done, we just want to be part of doing."- Kelly
Liz Stevahn, Care Lodi
Cleaning Up Hale Park
"We use this park room for our after school program so today we're doing a little TLC with the room inside then just cleaning up the playground at Hale Park. This is where we camp and this is where we are so we just wanted to make sure we were taking care of it the way we would want our stuff taken care of. We have Care Lodi students and some members from Grace Point Church helping us."
What's your favorite part about Love Lodi?
"It's just a time that no matter where you live in Lodi you can come together and do something that benefits everyone in the city."


Toni, Gravity Lodi
Loving on Lodi's Homeless
"We are from Gravity Lodi and we have our youth from Century Assembly here and we have some community out here at Salvation Army Hope Harbor. All we're doing is giving out some pastries, some hygiene products, and loving on our homeless community. We talked about making a bigger impact on our city, and it's a blessing that we can plant some trees and clean up some yards but we wanted to make an impact in a different way also so we thought let's love on our homeless community. We're also praying for people, that is the base of what we do, we want to implement that hope, faith and love."
What's your favorite part?
"My favorite part about Love Lodi is obviously loving on Lodi. Having that opportunity to go out into the city and loving on them and showing them that we care about our city."

Yohan Shackelford, Project Leader
Re-sodding the One-Eighty Center
"We spent the early part of the morning taking out the old sod from the youth center here and now we're going to put some top soil in and lay some new sod and give this place a nice fresh look for the members and for the community. We really just wanted to be able to make an impact in the community. We know a lot of people are out doing what they can to support Lodi and a group of us thought we could come out and do the same, especially at this center that helps so many youth."
What's your favorite part about Love Lodi?
"Getting out here with other like minded people who want to do something for the community. We're not all part of the same group, we didn't all know each other so we came in and introduced each other and got to know one another through some hard work and sweat. Meeting people that care about this city is great."
Wendy, Daisy Scouts Leader
Painting rocks for Lodi Library's new Kindness Garden
"We did this last year as a troop too and it's age appropriate for them. Right now our focus is to teach the girls about getting involved in their community. They have to look at what happens local because we want to start with what's going on in our city first. Our focus for them is to be kind and considerate. So we started today with delivering cookies to the firefighters and police officers and then we came here to paint rocks so we could spread the kindness. We are an age group of 6 and 7. It's perfect because Love Lodi has so many different categories and projects available that they can grow with girl scouts."
What's your favorite part about Love Lodi?
"Getting our girls involved and showing them this is a simple way of getting involved in your community."

Ariana Fauth
Lodi Lake Clean Up
"We were rounding up trash at Lodi lake. Sorted and counted everything when we were finished. And I love Lodi because it's where I grew up and where my son, nieces (one soon to be born) and nephew (not pictured) are growing up as well!"
Take Back Lodi
Roadside Clean Up
" WOW. Here is the mess near Fitness (Old Cal Skate) we also wiped out auto center drive in 6 minutes, and Helped the Love Lodi group at Maple square and the area on the other side of maple square by the tracks. Love the energy and enthusiasm had by all. Beckman road was also trolled and cleaned up. ALL in 2.25 hours. Whatta Crew!"
There were so many projects going on today there was no way I could hit every spot and be able to connect with people, but I hope you all know how valued your work was! If you want more information on the different types of projects or to learn a bit more on why Love Lodi makes such a big impact on our community, check out these two quick reads with interviews from the people behind the scenes. Love Lodi 2018 article (fun side note, this was one of my very first Lodi Live articles- happy one year anniversary to Lodi Live) or the story from the Spring Publication (found around town or right here).


Cheers to you all and cheers to another successful Love Lodi!