Why So Many People Came Out to Celebrate This Man's 100th Birthday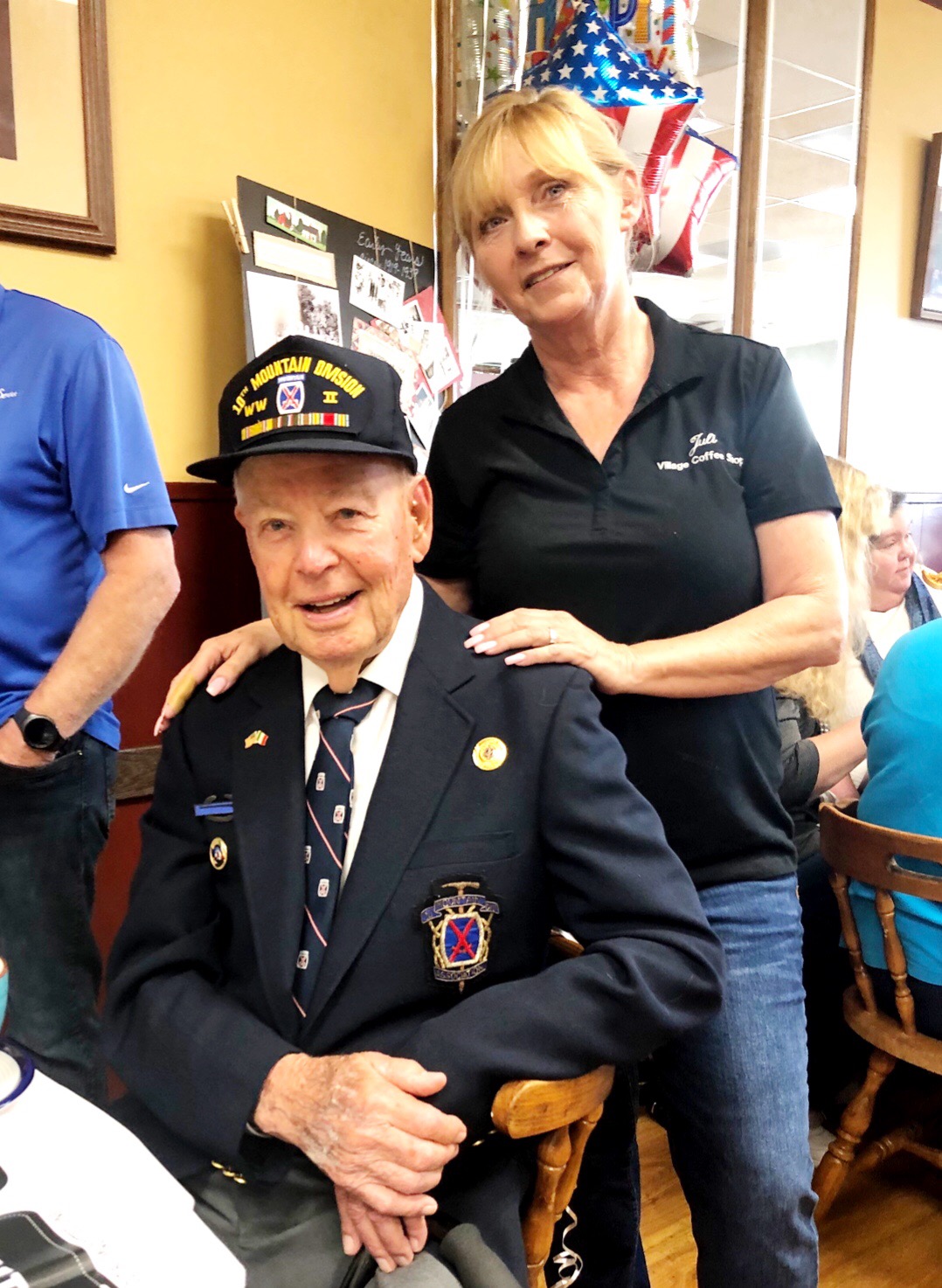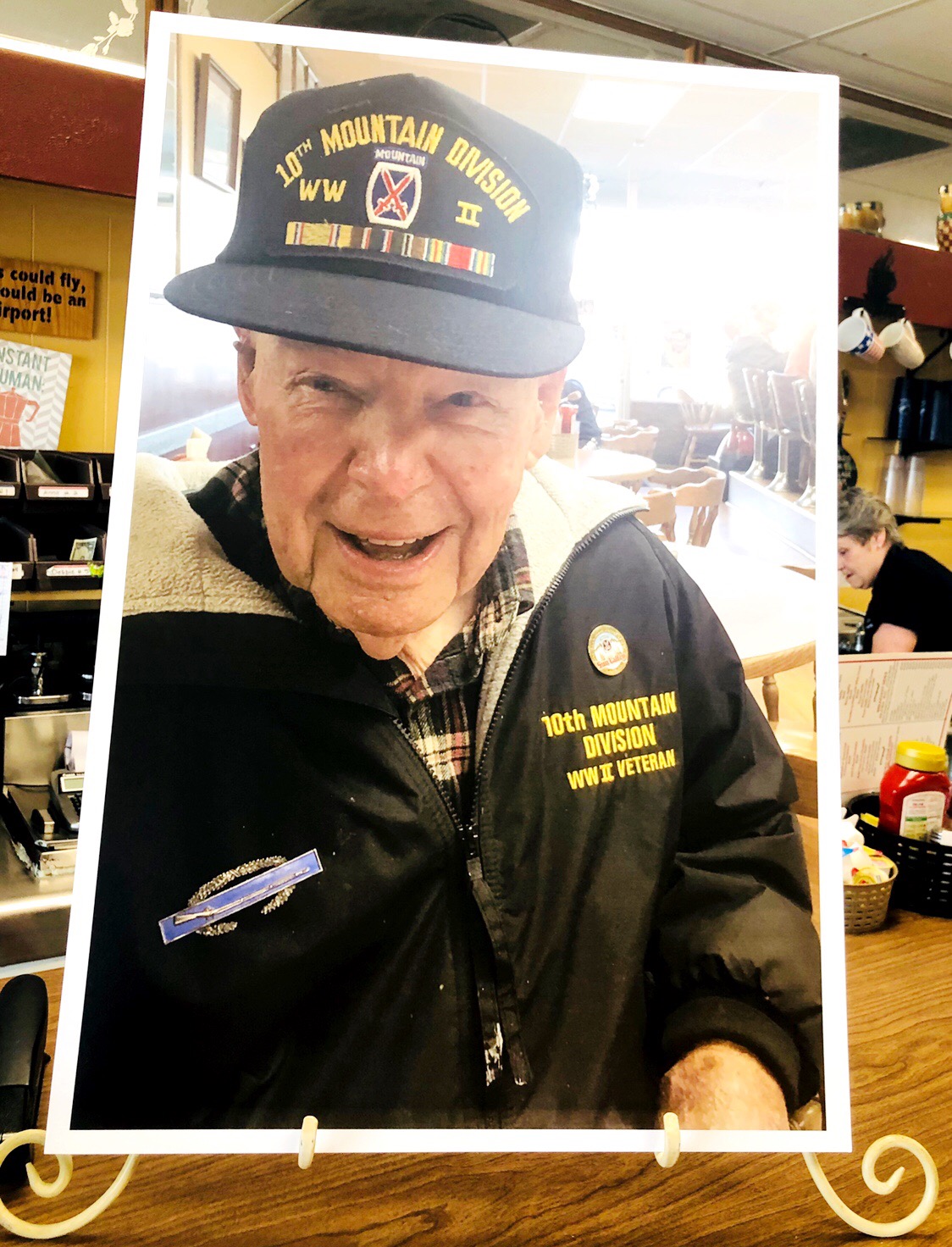 I really like this story because it shows how much good one person can bring into the world. On Friday, Art celebrated his 100th birthday with friends and family and a bowl of oatmeal over at The Village Coffee Shop. Birthdays are the best. I love celebrating birthdays because birthdays are a perfect opportunity for us to show somebody how much we love them. It's fun to have that one day when we get to do something special for someone we care about. 100 is as good an age as any to throw a huge celebration and really share that love.
It was fun getting to see Art on his birthday. This was my first time meeting Art. I wasn't with him long, but I could totally understand why so many people had come out on this Friday morning to celebrate him. He is charismatic and someone you want to be around. He has a great smile that makes you feel welcome and when he talks with you, you feel special. I'd never met him before, or anyone he was sitting with, but when I introduced myself it felt like I was talking to someone I'd known forever. The Village was packed. There was a lot of love and happiness in that restaurant and it was easy to see why.

Art has a lot of great stories. I feel like I could listen to him talk all day, and I'm sure he has more than a day's worth of stories, but here's the highlights. Art, born Arthur Oscar Schimke, was born April 19th, 1919 the middle of nine siblings. He was born at home in Lincoln, California. He and his brothers enlisted in the army when the World War II conflict was brewing. He served in the 10th Mountain Division and if that rings a bell it's because he served alongside Senator Bob Dole. After the war he worked for 35 years at the General Mills plant here in Lodi. He met his wife, Christiana, on a blind date at Oktoberfest in 1959. The wed the next year. He was 41 and she was 24. They had two boys and one girl. Today, Art comes to The Village everyday for breakfast. He orders oatmeal (with milk and raisins). His friends at The Village have turned into family and that's why when Art's big birthday came up, they decided they wanted to host his birthday party.

"I'm here every morning," said Art. "I eat oatmeal with a little milk and raisins. I like the comradery around the table. You tell lies." He laughed and a bunch of the men and the women at the table laughed with him. Art looked so handsome in his military attire, with his huge smile. As I was talking to him a man leaned over and said, "Thanks for being such a good Grandpa to my kids. They love yah."

This is what the whole morning was like. People were popping by to share how much they appreciated Art, to share stories, and to share the love. There were little quips like this, inside jokes, lots of hugs and hearty handshakes. There were at least fifty people in this restaurant all smiling and laughing because of one man. How good is that? How great is it that this one man's birthday could inspire so much happiness? Art has done a lot of big things in his life but he's also done a lot of little small things that have had a huge impact on others.
"We started coming here about 12 years ago," said Denise Reich. She's another friend who was here to celebrate Art's birthday. "We just sat at a table and Art and a couple older men were sitting there and it was such a good bonding experience. My son was struggling in US history and Art would tell him all sorts of stories and it really helped him. He's always been the most honest person ever. He is just the nicest man."
The owners, the ones who helped orchestrate this party, were all smiles. "I met Art here. I cooked for him every single day. When he comes in the door you know exactly what he wants and you just make it," said the owner, Julie. "One of his dearest friends, who just passed away, he would come in and order cinnamon toast and he would give Art a quarter of it automatically. He's a great guy. I just hope that the rest of his life is as happy as it is today."
Art's son, Kurt, was also at the breakfast. Kurt and his wife actually live in Africa, in Uganda, and flew back to help his dad celebrate this huge milestone. He's a lecturer (soon to be professor) at a university there. "Dad is incredibly affable," said Kurt, smiling at all the people in the room. "He makes friends everywhere he goes. He's extremely friendly and sweet. He genuinely cares about other people and he's secure and you feel comfortable with him. I think he makes a lot of friends because he's happy with who he is and he's not afraid to let it all hang out. Of course, he's a bit more transparent sometimes than we would rather like but I think it's a great way to be. It's a fabulous way to be. The skills that I have living in a cross cultural environment and the friendliness that I'm known for I get from him. I'm very grateful. I get to be good at what I do. I never wanted to be a teacher but the funny thing is I generally like it."

We were admiring what good shape Art was in. He's 100 years old and walks straight and tall. As Kurt would say, he's a soldier through and through. Art heard us talking about him and chimed in, "I had a physical and the doctor couldn't find one thing wrong. Nothing! Dr. Hoff says, 'I'm going to see that you make it to 100' and I says, 'You know you're not in charge!'" He started laughing. Kurt went on, "We were raised in a very strong Christian family. Very strong church goers and that had a profound impact. It's an honor and a privilege to be raised in a Christian home and have that value system. It has carried my wife and I through extremely difficult times in life. Africa is no walk in the park. I'm very grateful.'

"I could have been born in so many different homes and I was born in a home of war survivors, hard working people, who had PTSD," continued Kurt. "They had their issues, and simply because of their faith they worked through them. They were productive, despite all of the emotional baggage that comes with war and trauma, and they were both deeply affected by it. They said no matter what, we're going to raise our family in the best way we possibly know how. What an honor. What a privilege. And it gave me an encouragement later on in life to do something difficult and strong and have the great privilege to do what we do. The Lord knew what he was doing and gave us a background and upbringing to do what we needed to do. What a testimony. As a son I'm very proud and I'm very honored to be here and enjoy his day."

Birthdays are special because they give us an opportunity to celebrate those we love. You don't need to talk to Art that long to see what makes him stand out, or to figure out why The Village was packed full of people of all ages to celebrate his big day. He makes people feel special and loved. When he's talking to you, you feel valued. There's a lot of good things about this story. We had the chance to celebrate someone who has served our country. We had the chance to celebrate someone who has helped shape our community with his years spent at General Mills. We had the chance to celebrate a man who has raised a loving family, with kids who are making a difference in this world. And what stood out the most to me, is we had the opportunity, on this special 100th birthday, to celebrate a man who brings out the best in others every day. To close this out, here is some life advice from Art himself: "The thing that goes the furthest in making life worthwhile, it costs the least and does the most, it's just a friendly smile." Happy 100th birthday, Art! Here's to hoping your next years are just as happy as today!